Turning 28, Part 2
Thursday, August 29, 2013
Following my previous post, my mom and dad brought us to Peach Garden for my birthday dim-sum fix. It was gooooooooood! Good dim sum and good service make me happy, especially on my birthday. ^-^
There were some new items up, particularly the fried carrot cake with XO Sauce. Carrot cakes will never be the same again. :o
The har gao also now comes with three different flavours, the normal, black sesame and spinach.
Of course, it is cake-cutting time after a hearty dim-sum brunch! I didn't have a cake last year because I was doing confinement so this year, the husband made it up for me and went all the way to Pine Garden to get me a Black Forest Cake.
Lychee Martini will be the best, but because Nian got it rather last minute so Black Forest will be the next best! This man actually told me that he had to run an errand for his superior so would have to come home late but actually, he went all the way down to AMK to buy me a cake and managed to sneak it into the house without my detection!
So sneaky hor.
Afterwhich, we headed to the Subordinate Court wtf. Now that the case is closed (I hope!), I think I can share a little here.
If you guys remember,
Nian got into an accident last June
, when I was heavily pregnant then. Fucker Rider (sorry had to use such a word on a man, but this dude is a jerk. Read on!) changed lanes abruptly on the expressway and caused Nian to collide into him.
Thank God Nian was okay, except for a whole lot of skin scrapped off and a sprained wrist.
FR (Fucker Rider) was subsequently fined and had his points deducted for dangerous riding. We thought the story will end there; Nian will claim FR's insurance to repair his bike and we will pay for our hospital bills ourselves.
But a couple of months after the accident,
FR decided to sue Nian to get him to pay for his medical reimbursement.
Er,
excuse me?
It was a case we couldn't not fight because if we don't, we lose automatically and we would have to pay for his medical bills. Why should we? We didn't even claim him for
our
medical bills, he had the cheek to come around and ask us to pay for his! #nologic
So fought we did. It dragged on for probably half a year or so.. or even longer. I don't remember, but eventually, the court ruled in our favour and not only did we not need to pay for his medical bills, he had to compensate us a couple of thousand dollars.
Unfortunately, after such a lengthy case, FR still didn't understand that he doesn't have a very good chance against us, simply because the law will side whoever is right.
Shortly after the previous case closed, our insurance company informed us that FR refused to settle for the 80-20 claim. He was supposed to pay 80% of our bike damages while our insurance will pay the remaining 20%, but I'm not quite sure why the money had to come out of his own pocket though... Usually the insurance company will pay for the damages then up their premium right?
So anyway, because he refused to pay up this sum, Nian had to appear in court to testify about the accident again. This time, FR pulled a new stunt by introducing a witness that was never mentioned in the police statement, neither did he appear during the trial for the medical reimbursement.
-___-
This witness was FR's friend who was riding beside him when the accident happened. At that time, Nian even spoke to him and got his number, with the intention of asking him to be Nian's witness because he saw how the accident happened.
In the end, this witness changed his statement and said that he rode past FR after the accident and saw that he was injured, so he stopped and helped him.
Seriously? These two jokers don't know what the hell they were saying. Witness mentioned that Nian was speeding, which was why he lost control of his bike and collided with his friend. How would he have known if he had only passed by FR after the accident? How can he be a witness if he did not witness the accident, right?
Eventually, after an hour or so of hearing, the judge decided a 70-30 payout in our favour - that means FR will have to pay 70% of our damages from his own pocket (plus lawyer fees, ha!) and our insurance will settle for the 30%.
If FR is not happy with the verdict, he can bring it up to the court again, which I sincerely hope that he won't.
With this positive verdict to our favour, it was like a cherry on my birthday cake... even though my Blackforest cake had a lot of cherries already LOL.
Of course, I'm very thankful to both our lawyers for winning us both lawsuits too. Without their professionalism, fast thinking and sharp questions, we may be going to and fro this case for a long time. :)
***
Yeah.. and that comes to the end of my 22nd of August. :) Thank you for reading my birthday post! It is probably not spectacular with champagne and roses, but it is still very, very enjoyable for me to celebrate it with my parents, my husband and my son.
I also had a delicious cake, wonderful presents and bubble tea AND won a long-standing case. What else can I ask for!?
Ending this post with my birthday #ootd!
I love the beautiful floral prints on this dress - specially bought it so that I can wear it on my birthday, hahaha! Apart from the prints, I love the cut-out at the back. Very airy lor!
I think this is also my first post on the blog featuring my latest short crop. As you can observe.... my hair is going shorter and shorter lol. It's partially because of the hair-grabber I have right there in my arms! But the thing I love most about short hair is that it dries super fast whenever I wash it. SHIOK!
Sponsored Shoutout
Talking about #ootd, do you know that River Island is going to be launched exclusively on Zalora? Come September, Zalora Singapore will be the exclusive online vendor of the UK High Street label, and they have launched an instagram contest where you can win a pair of
Zalora X River Island
VIP Launch Party invites!
Simply take a photo of your River Island or RI-inspired outfit and post it on Instagram, along with the tag #ZaloraRI. Posts from now till 4 Sept stand a chance to win a pair of tickets to the Zalora X River Island VIP Launch Party on 13 September. 8 winners will be selected, so there's a very good chance that you might win the tickets!
To give you some inspirations, here are some of
River Island's AW13 collection
that is coming right up!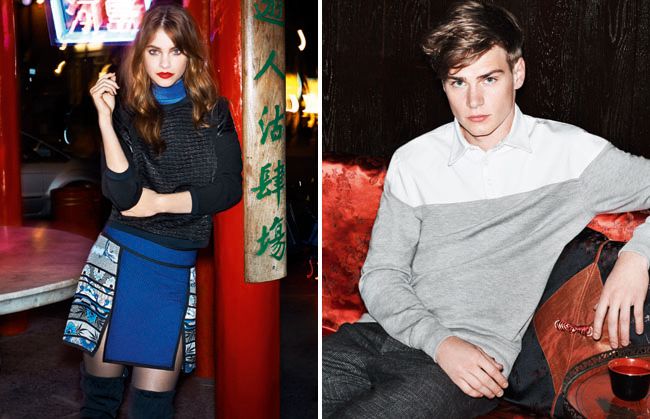 One of my personal favourites: AW collection often calls for a darker tone of colours. I love how the blue and black come together, how about you?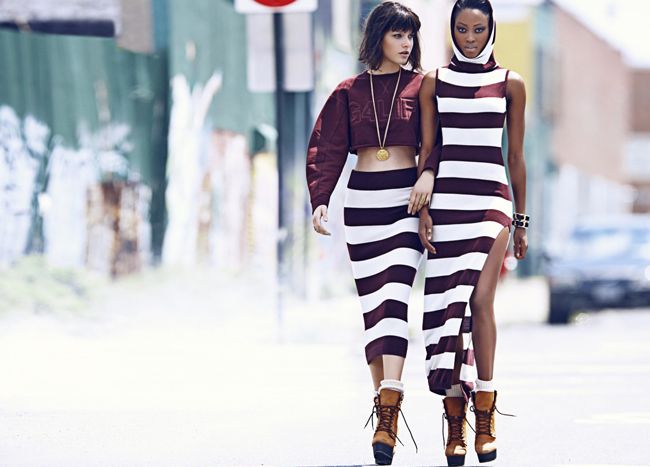 Have you heard that Rihanna is also launching her
River Island collection
as well? *excited* This 80-piece collection is also something that you can look out for, because I definitely am! I mean, just look at these black and white stripes. So classic, so irresistable.
If you want to be part of this exciting
Zalora X River Island
launch, start instagramming your RI or RI-inspired outfits today! Remember to hashtag #ZaloraRI!