Oh, those beautiful nails.
Wednesday, December 26, 2012
I haven't been doing loads of manicures lately.

Oh wait a mo', I haven't done any manicures at all ever since I gave birth to Dylan! I don't usually have the time to do so (shuttling between work, infant care and home) and I don't think Dy will actually allow me to sit down for 3 whole hours to get pretty nails done while he lies down there.

Sorry, little man doesn't appreciate all these toluene nonsense his mummy loves.

However, that can't stop me from browsing around, fantasizing about a set of pretty nailart isn't it? Here are some that took my breath away:


#1
Such a cute, wintery theme from
Kayla Shevonne
! I absolutely adore the blue gradient nails she has as background.
#2
And check out this ruffles one from
Chalkboardnails
! Kayla Shevonne did a rainbow coloured representation and I adore that one as well.
#3
Oh, my, god. I haven't seen a baroque representation on nailart before and I must say I'd LOVE to have this on my nails! (& then proceed to have a round of heart break when I chip those nails, oh no!)
#4
Ahhh... galaxy prints. It is already out of trend but I can never get enough of these mystical prints! Looking at it even closer, I wonder how many nail polish shades were used to achieve this effect.
Love the little glitter too!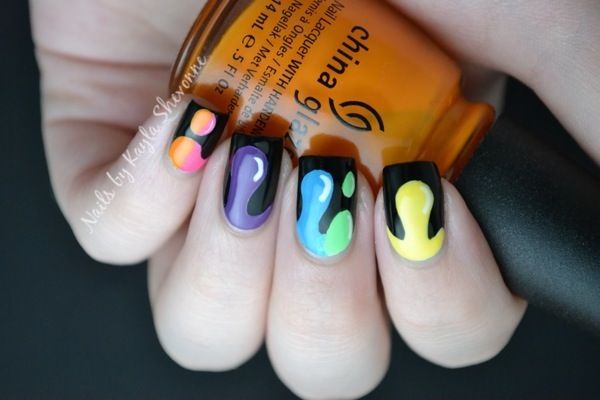 #5
Alright, last one. A simple design but not so simple colouring! Notice how Kayla incorporates 2 to 3 colours (excluding the obvious black) in a single nail design?
I will never get tired of the rainbow effect too.
Have I got you started thinking about your nail designs for the New Year already?