My Christmas Horror Stories
Sunday, December 25, 2011
Merry Christmas everyone!!

Wow, seems like 2011 is indeed flying off way too fast. Is it down to the last 6 days already? While everyone is busy having loads of fun on Christmas Eve and Christmas Day itself, my poor husband has to work, leaving me with my blog and the rest of the Tan's at home this year. Poor boy! :(

But thankfully, we managed to catch a movie yesterday (Sherlock Holmes, compliments to B+L. More on that in later posts!), and I hung out with my good ol' polymates while we usher in Christmas. :)


Here's my outfit of the day, with compliments to
Finding: Dressabelle!
: Gathered Blaise Dress in Ultramarine from their #255 collection. Bag is from PerryAmber and Lush paperbag cuz I bought bubble baths for my girlfriends! (They smell so yummy, gawwwd)
I love the thick cotton material because it doesn't crease easily, and very stretchable. As you can see, I have a slightly heavier bottom but it still fits me snugly nonetheless.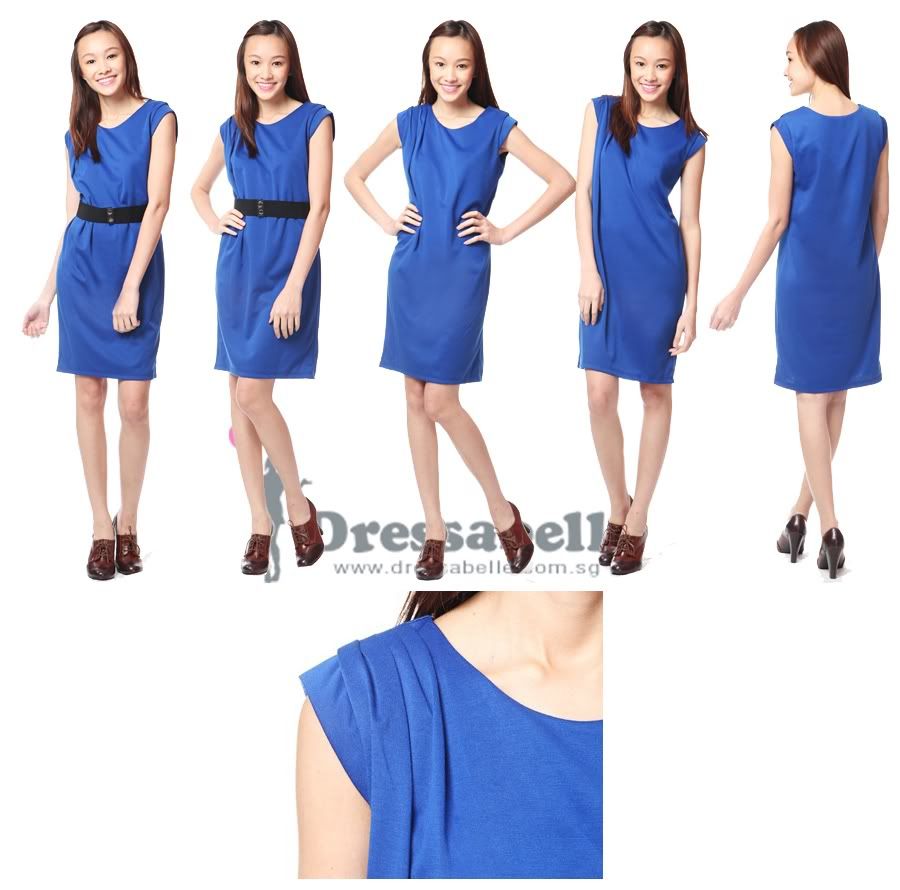 If you're more petite than me, you'd realize that the two-button elastic belt also does a great job in giving you "the shape", so you will still look as flattering. :)
***
It was surprisingly not so crowded in town yesterday though; I was expecting like crazy crowds with loads of Bangladeshi, China and Phillipino workers roaming the streets and spraying people with those annoying foam.
I remember when I was 18 and in town with a guy-friend on our way to meet our other friends, this group of Bangladeshi workers came and
fired at will
at my friend, leaving him like a snowman, my god.
Then when I was super engrossed in helping him remove those annoying foam, this Bangladeshi man came in front of me,
*cues slow-mo effect*.....
And brushed his elbow across my chest.
NINAHBEH.
I think I've retold this story for as many times as anyone would care to hear. But here's the story again: I tapped his shoulders, no. I actually grabbed his shoulders (not like those martial arts kinda grabbing but I was like, "HEY!"), and then he turned back... *cues slow-mo effect again*
I punched him promptly in his left eye.
Fucking chao ah-neh! And then he tried to run.
Back then, it was so crowded it was people walking shoulders to shoulders, so it was quite hard to get out of the crowd and escape. I then tried to hold on to his left arm (I don't know why though. I had no intention to bring him to the police. I just wanted to kill him for elbowing my boobs on purpose.), but he was so slippery from the foam, all I could do was to scratch him as hard as I can.
Sigh.
Come to think about it, if I were to re-live this scenario again (touchwood), I wouldn't know what to do with him if I ever caught up with him. Step him to death with my 4-inch heels? Maybe.
Or maybe I'll strip him naked and throw all his clothes away. Let the police catch him for indecent exposure.
***
So yesterday, my polyfriend Sandra and I were walking behind another couple friend, Delon and Tong, towards Delon's car. There were some Chinese lameshit boys and girls spraying at each other with the foam, which
I don't know why
. So fun meh!?
Just as we were thinking, if we don't have those foam bottles in our hands, these crazy pieces of shit won't attack us with
their
foam bottles because, well, that wouldn't be fair, right?
Wrong. This major son of a bitch decided to spray foam at us - the poor ladies in heels, completely unarmed and unaware. THEY THOUGHT IT WAS FUNNY.
I didn't get much of the foam, but poor Sandra had her hair specked with those disgusting soap foam that was probably made from the cheapest detergent. But when I saw some on my new dress, I fumed.
I turned, whipped out my umbrella and gave chase to those stupid Chinese boys. Can I just say that they are lucky that they are fast runners and I was on heels? I'd have not hesitated to whack their noses off their faces with my umbrella! >:(
Yes, turns out that my Christmas in town always end up with me being angry with those people with the foam spray shit. Haiiiiii.
But apart from that, I was glad that I hung out with them again after so long! And chasing down that guy and watching his expression was one of the most liberating thing of the night hahahahahaaaaa.
Before I go off, I'm just gonna keep you guys informed that Dressabelle is having a Boxing Day Sale, which is going to happen tomorrow (duh!)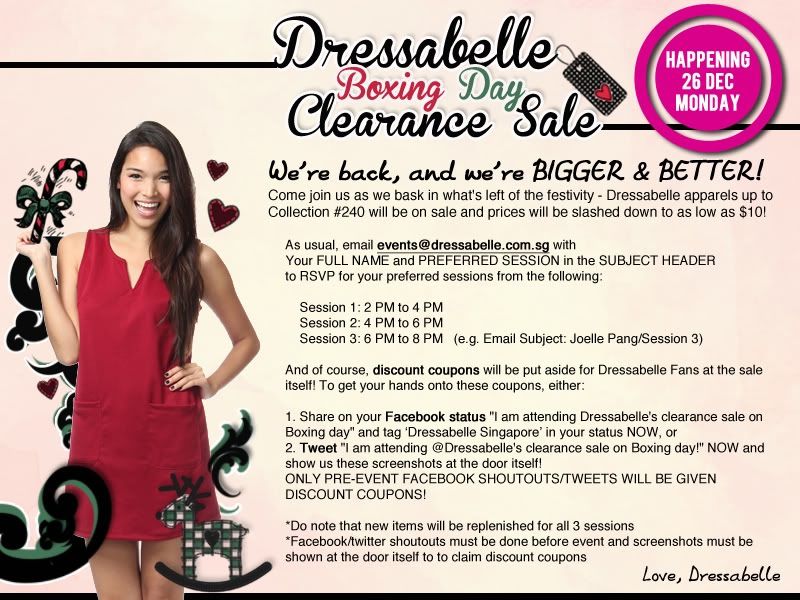 Session 1 is full, but you can still opt for Session 2 and 3! Don't miss this chance, Dressabelle's apparels get snapped up really quickly, if you don't already know.
Ok, gotta go have an early rest this Christmas. Have a great night, guys!