Food Tasting at Park Royal Beach Road
Saturday, July 30, 2011
... On Tuesday. Boy! I must say that the food IS GOOOOOOOOOD!!!

We were so happy with it, I was glad we picked Park Royal for our wedding dinner. =)

While my SIL had her food tasting in a restaurant, we were caught by surprise when my very-blur wedding coordinator actually booked a function room for us, with nothing but a big, round table in the middle. We thought that was very exclusive - we didn't need to talk really loudly, neither did we have to worry that someone else could be listening into our conversation.

It was very private, just the way we like it.

We were served by two wait staff, who had exceptionally service attitude - it basically made my entire day.


Our first dish was the combination plate, from top, where you see a little mould with loads of mayonnaise on top of it, is the Salad Prawns. Clockwise from the Salad Prawns are the Bak Kwa Coins, Shark Fins omelette, Top Shell and Mini Octopuses.
Our feedback:
Salad Prawns: Should've used fresh fruits instead of canned fruits. The fruits tasted artificial, but the prawns succulent and fresh. We requested for more mayonnaise dressing on our actual day, along with the use of fresh fruits.
The rest of the dishes tasted really good, with us putting our favourites as the Mini Octopus (Mama Chan said it was very crunchy and nice), Top Shell (more than half of the table loved it!) and Sharksfin Omelette (personal preference).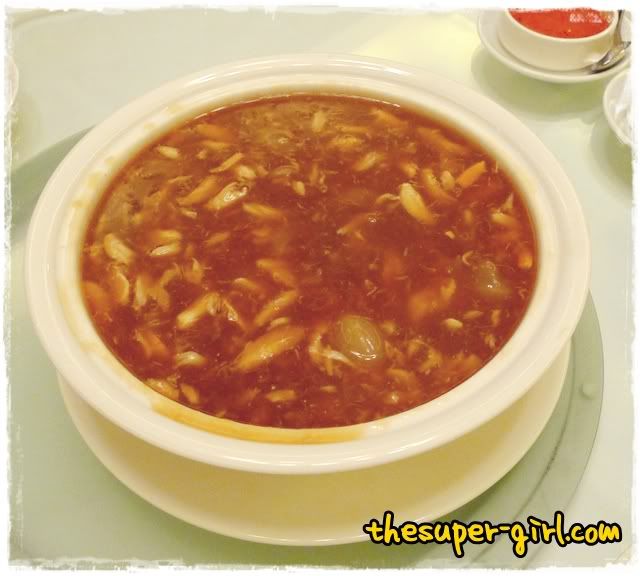 The second dish is Sharks Fins served with fresh Crab Meat.
This dish was PERFECT. The generous serving of fins, together with the succulent, smooth crab meat... We told our chef to keep up with the portion.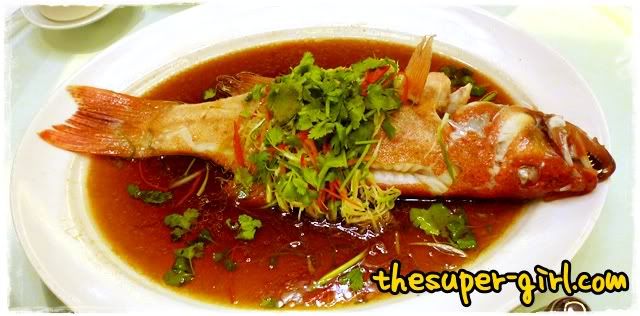 Third dish was the Steamed Red Garoupa with Superior Soy Sauce.
The fish was very fresh, and the size just about right. My family is very anal with fishes - so when Dad said it was good, it HAS to be good! The flesh was succulent, chewy, and even slightly Q. The Soy Sauce wasn't too salty, which was good.
When selecting the dishes, I actually snooped around Singapore Brides (*embarrassed*) to read their reviews on Park Royal. Turns out, every Park Royal bride actually raved about this Green Curry Prawns, so we decided to choose it to see how good it actually is.
Hmmm, I'd say it's a little too spicy for me - so we got the chef to reduce the spiciness so that even kids can eat them properly. Overall, I think it was pretty delish! The green curry + the crispy shell of the prawns made me feel like I'm biting off Calbee's Hot and Spicy Potato Chips. :P
The fifth dish is the Barbequed Chicken in Thai Style. To be honest, I don't really like this dish because it didn't feel any exceptionally Thai about it. The chef said that the marination is very subtle, therefore you can't really taste it - unless you dip it with the accompanying chilli sauce.
You see, the sauce wasn't served together with the chicken, and no instructions were given as to how to eat this dish properly. We told our banquet manager to get his wait-staff to announce the dish and also to tell our guests how it is supposed to be eaten - i.e. dipped with the chilli sauce.
We also got them to serve the chilli sauce together with the chicken so that our guests know that it is the accompanying sauce, instead of placing it on the table, before the dish is served.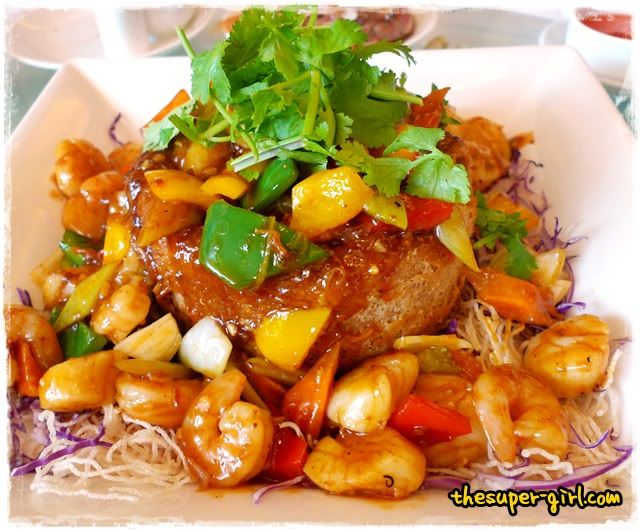 You'd realize that the colour quality of the picture suddenly improved tremendously. This was because while we were eating halfway, the electricity somehow tripped, and we were stuck in the dark.
Thankfully, the quick-witted wait-staff then drew the curtains, letting natural sunlight come through. Also thankfully that we had our food tasting at 12 noon, LOL.
Our disappointment towards the Thai Chicken was short-lived, fortunately, because when our Yam Ring was served, the whole table was excited again!
Personally, I think the Yam Ring was pretty well done. However, we still requested it to be less "strong-tasting". Mama Chan thinks that it's too sweet and salty. But I love how crunchy the Yam Ring is, and the prawns and scallops were DELISH!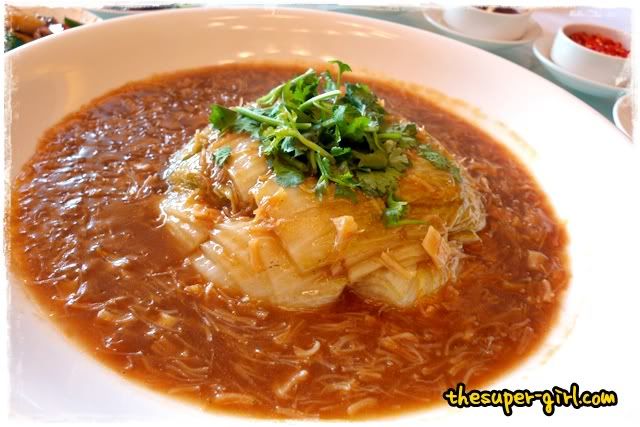 This 7th dish caught us in bewilderment. Like - WTF how come it looks like this!?
You see, this is the Chinese Long Cabbage served with mixed scallops broth. Taste wise, it was perfect. The cabbage was soft and sweet, and it melted quickly in your mouth. The scallop broth was thick and flavourful, and very generous with the scallops.
One bad thing is that it looks really bad, IMO. D:
We had it changed into brocolli instead of the Chinese Long Cabbage. I hope it will look better than this yellowish, pale veg!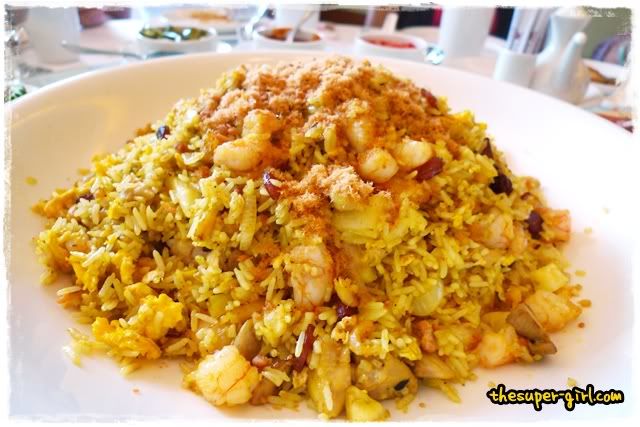 Last dish before the dessert was the Pineapple Fried Rice. =)
Nian chose this dish because he wants something different and unique - most places are serving Glutinous Rice in Lotus Leaf, which he thinks, it's superbly boring.
We love the fried rice as soon as it is served. Remember how hard you'd groan by the 8th dish because you were so freakin full, and then you had to swallow that starchy, sticky, glutinous rice?
The rice was very fluffy and light, with generous servings of prawn chunks. They also mixed it with plenty of sausages, so you don't find it sick to be eating this... until you give up.
Nian and I could finish this bowl of fried rice, despite the earlier dishes!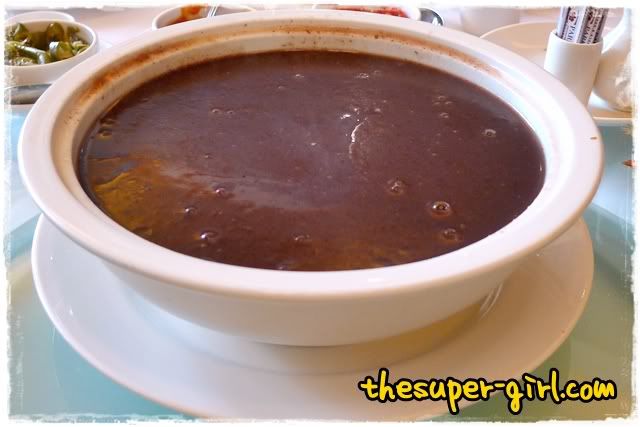 We chose something hot for our dessert - the Red Bean Paste with Lotus Seeds. Not because I'd want it (trust me, I'd choose some ice-cold Mango Sago anytime!), but my MIL thinks it's good omen because Lotus Seeds in Chinese is "Lian Zi".
Something like you'd have a son. So it has to be good. LOL.
But honestly, it's not too bad. For someone who doesn't appreciate desserts like these, I think it is pretty delish and not "gerlat" after eating a few mouthfuls.
So... are you looking forward to our big day?
We are only 50 days away. :)