[Adv] Bio-essence Bio-Platinum BB Cream
Wednesday, December 22, 2010
Many a times, when I thought about updating my blog, I thought, "Jac, you need to be more hardworking you know... Look at the amount of advertorials and backlogged entries you owe!"

So this thought made me awake at 6AM to attempt to write something.

Why attempt?

Because it's 7AM now, and I barely started.

Not because I'm sleepy, in fact, I am so awake now I kinda regret I didn't go downstairs for a run. Not because I'm slow.

*points to my laptop* It's all this old man's fault.

I can't believe it. It took the laptop close to 1 hour to "warm up". And by "warming up", it means to at least respond to whatever I've typed in.... And at this point, I can only see the word "respond" being typed so far.

I need a new laptop, people. -____-

Complains aside, I finally got down to complete my pictures editing, and I'm proud to introduce you guys one the BB creams I've been using for the past weeks. :D


*continues stoning while staring at my Not Responding screen*


*10 seconds later*

Right, where was I? Yes, the BB Cream.

BB Creams have been out and had been very popular for the past few years, specifically, it seems that the Koreans are the best at making BB Creams.... I don't know why. Must be some secret recipes.

Anyways! Here's one BB Cream that would make us have a chance to go Korea!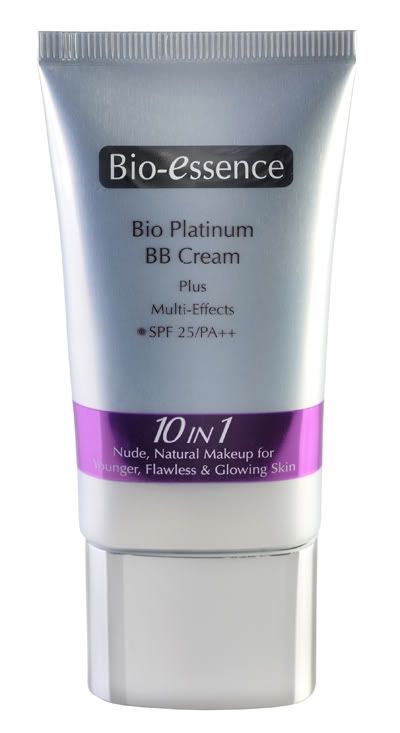 The
Bio-essence Bio-Platinum BB Cream
, ladies and ladies.
It's called Bio-Platinum, because this BB Cream actually contains
platinum
! (duh.....) Platinum is added to protect the skin from aging.
Apart from that, it also contains
Tanaka Bark Extract
that cools and hydrates inflamed skin (think pimples). And
Bio-energy fluids
.
Bio-energy fluids are so popular in skincare these days, you have to be sure you have this essential element for healthy, supple skin!
(Read previous TiW)
What I like about this BB Cream:
I like the fact that it has SPF protection, even though it is a mere SPF25. Many BB Creams don't actually bother to include SPF! And because of the Tanaka Bark Extract, my face feels reasonably moisturized.
What I don't like about this BB Cream:
1. It is too watery.
I was caught by surprise with its (lack of) viscosity because this BB Cream came along with another 2 more "sisters", and the two of them were not as watery as this one! It kinda make my make up area a little messy, because it dripped everywhere... gosh.
2. My face looks too pale after a day
I would think it's because my complexion is too dark for this particular BB Cream. Towards the night, my face looked like I slapped talcum powder all over..... It was
hideous
. :(
3. Hard to blend
And reason why I looked like I have talcum powder, was because the BB Cream kinda dried up too fast or something. I barely had time to blend.... I had streaks across my forehead omg.
So what I did was to dab a little water on my face.... But that became too watery, fml.
I may not recommend this Bio-Platinum BB Cream, but you guys have to stay tuned to the
Bio-essence Multi-Effect BB Cream.
That one certainly rocked my socks!
(I know right, like one week of no reviews, I had to start off with a bad one... But trust me. The next one will be GOOD I swear.)