[Adv] Weekend with Hocuspocusing!
Tuesday, June 15, 2010
Nian and I spent an awfully us-time together over the weekend, just strolling around town, had a fantastic movie and a pretty good dinner! Nian and I also met up with our Justice of Peace to invite him to solemnize our wedding.

In fact, I was telling Nian if I could actually pull a Xiaxue by appealing for some sponsorship through this very domain! Well, we've found most of the people we need (emcee, photographers, catering blah blah), I'm actually still in the midst of looking for THE dress and THE make-up artist. So.. *eh-hem* let's move on! ;p


So here's us in extremely clashing colours but I love the mismatch, somehow! Purple and green, always quirky! And yes, I DID wear the purple dress
has very generously sponsored me.... out of the ten pieces. I honestly had a hard time! =.=


Here's how it looks like in full length! Awesome colour, isn't it? :D
We took a train to town to catch a movie. But actually, I was craving for Sakae Teppanyaki and Nian wanted to bring me for a good Japanese dinner... So urm, the movie was kinda an excuse. ;p
Wanted to catch Shrek or Sex and The City 2, but urgh, it was all sold out. Not surprising right!?!?
We ended up watching Nanny McPhee and The Big Bang.
It's fantastic! Nian and I love the show thoroughly, and it's a shame that it didn't get as much publicity as Shrek/SATC2/Prince of Persia. I still love her magical walking stick, how she declares herself as an Army nanny and the kids need to be disciplined...
And best, Professor McGonagall was acting in it too! Ok, for the benefit of people who don't watch Harry Potter:
There! Headmistress of Gryffindor, but this time slightly senile and sits on cow poo. Haha!
There's this new stall that took over the usual donut store in Cineleisure too. Located in B1, it's called Best Fries Forever. It was quite interesting, so Nian and I bought a large one to share.
Found this menu off their facebook! We bought the Ole Ole one, which is basically Salsa. Kinda tasted like thousand island sauce to me though.... And it was REALLY salty towards the end.
I think you could add a dollar to get a can of drink for the combo.
He snacks too much for his girlfriend's good. People say I fat oready ok! Help me by not eating so much can or not my dear?
But think about it, I think he should help me by eating more... right?
Whatever. ;p
Fast fowarding through the movie, Nian and I then wanted to go Sakae Teppanyaki to eat some more..........................
Only to realize Sakae Teppanyaki in Cineleisure closed down!!! T______T
Sad maximum. I was so looking forward to nibble that delicious, fatty foie gras~~~~~~~
Wandering around like hungry, lost souls, we finally decided on Jack's Place for some serious beef rampage.
I think I look kinda constipated. Because I was hungry. And every single else's table smelled damn good. Sigh.
Because everyone was so busy, our food was served like half an hour later. T_____T x 2
Nian thinks the lobster tasted like crayfish. I thought the beef was too tough! And look, he's sad because dinner took soooooo freakin long. :((((((
In the end, we were just sad people by the time we got home. But NEVERMIND. At least I wore a new dress, and
everyone
said I was pretty ok!

+++
SUNDAY was spent being a member of the WAG (wives and girfriends) club.
AND I WORE ANOTHER NEW DRESS FROM
, STILL! Apart from that, they have also unveiled their new collection TODAY!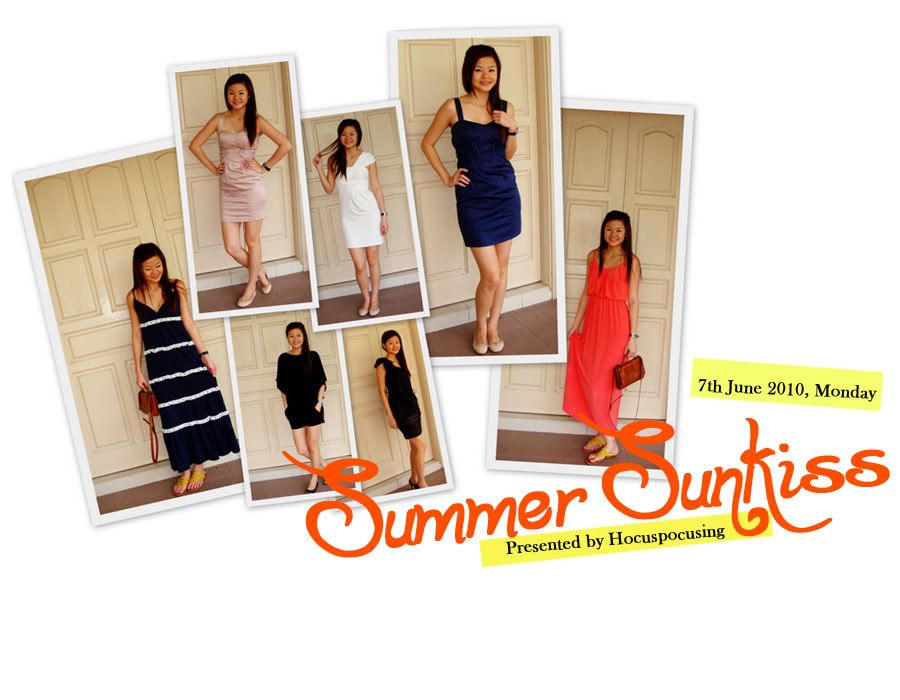 They have some awesome pieces inspired from the big-time fashion companies like ASOS, such as this:

I really like executive dresses like this! You know sometimes, less is more. Such a simple dress but yet elegant and feminine. Throw on an awesome blazer like the below, and you'd be good to go!


Throwing in the last one that I'd kill to have:
SO PRETTYYYYY T______T
I can is a sailor with this!
Ok ah, I hope I've left you girls with enough lemmings to have your boyfriends cry in agony. Nian very smart ah, he see me surf
, he pretend to fall asleep. >___>

Ok bye!!!