[Adv] Qian Zu Ge Gives Me Pretty Nails!
Friday, August 29, 2008
.
.
.
ARE MY NAILS PRETTYYYYY????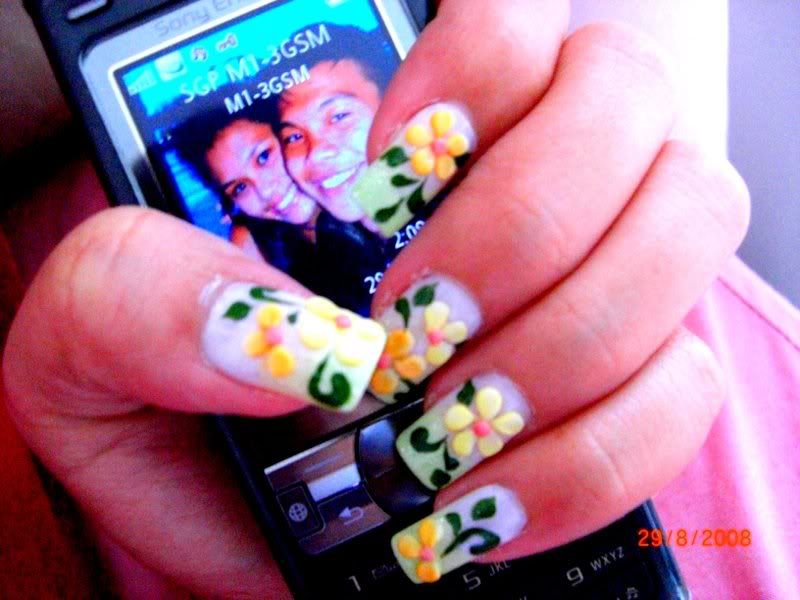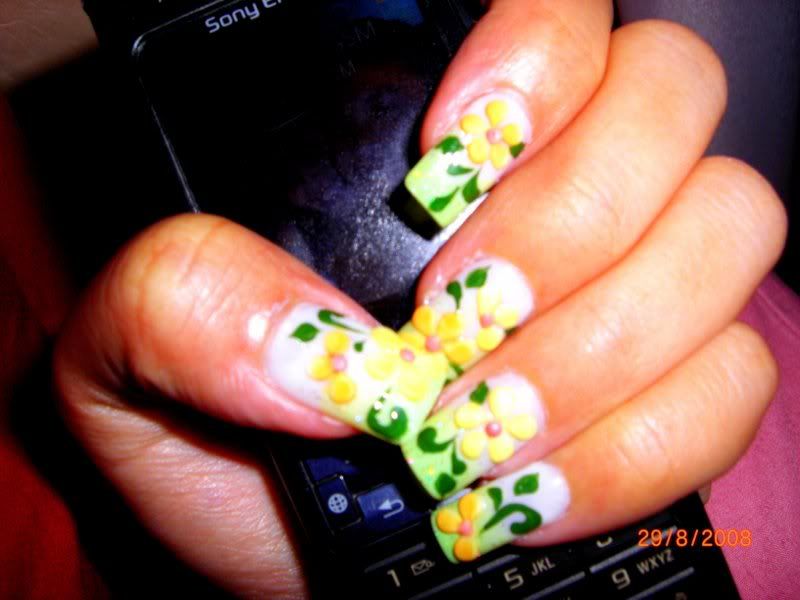 I love the green background and the pretty little 3D flowers Grace (my nail technician) drew for me!! I'm totallyyyyy in love with my nails now I SWEAR!
Thanks to Qian Zu Ge, I have long pretty nails to show off now! Hehehe.
I was very lucky to be chosen by fr3b.com for the first blogger event at Qian Zu Ge! I don't have much pictures from the event because I was so busy having my acrylic nails done, talking to my new friends and errrr... basically just bimbo-ing around. :P
So be sure to stay tuned, I'm gonna get more pictures from Elfine so that you guys have more visual images!
By the way, Elfine is the founder of fr3b.com and YES I LOVE HER. Hahahhaa! She's too cute to not love la honestly!
I was a little late for my appointment, it was supposed to be at 5, but eventually I only managed to get there at 5.45PM. However so, the staff there were very accomodating and nice!
Ambiance
The whole set up is very cheena themed, with red wallpapers and Chinese wordings, but yet, there's a fusion of the East-meets-West because they were playing very nice romantic songs as background!
I feel like sleeping once I get into the room hahahaha!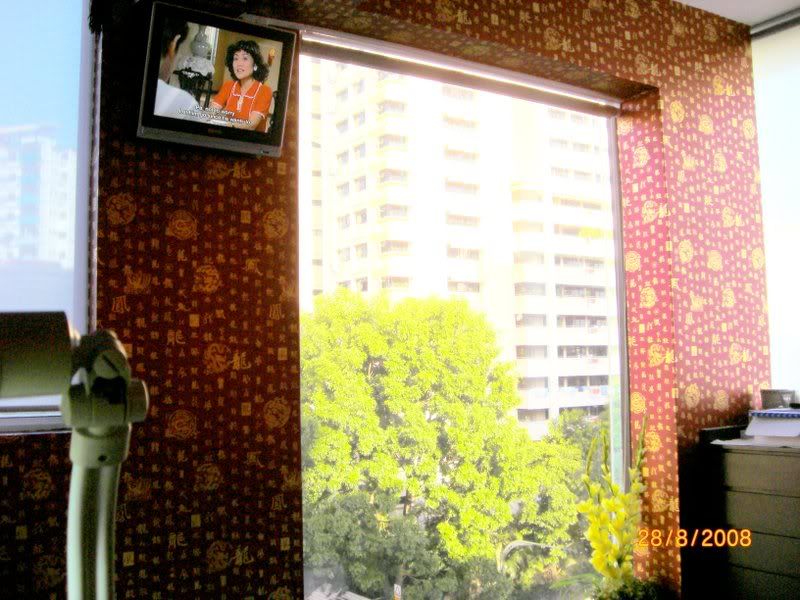 This is my little view of the surroundings from where I am sitted to do my manicure!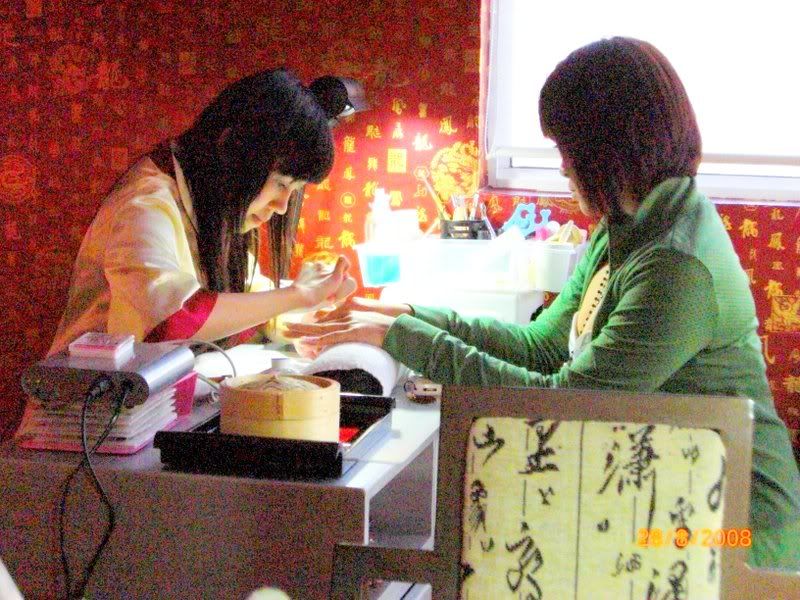 Sitting opposite me was Fidelis the luckiestchick- doing her nail art :D
So 6 out of the 500 over bloggers applied were chosen and I am glad to know the other three pretty babes! I missed out the first two girlies because I was there late. Gah. :P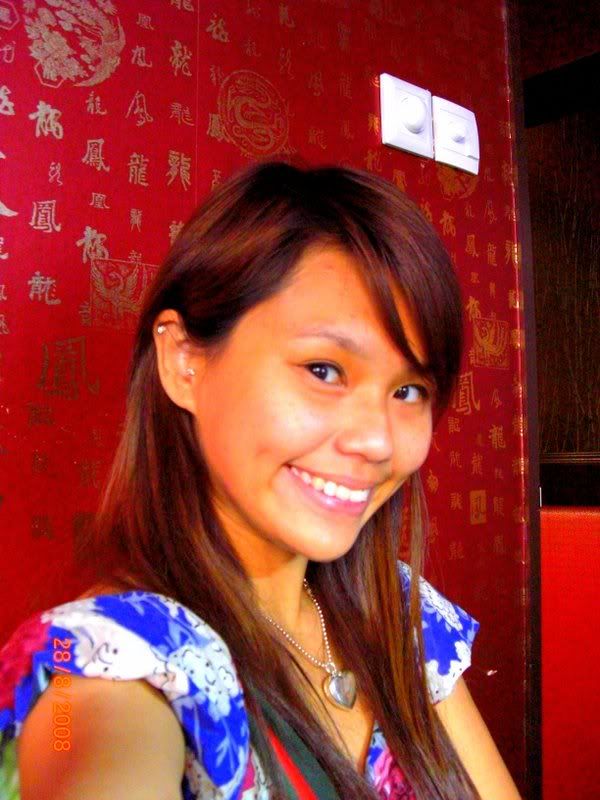 Ok a little bit of narcissism won't hurt right? :P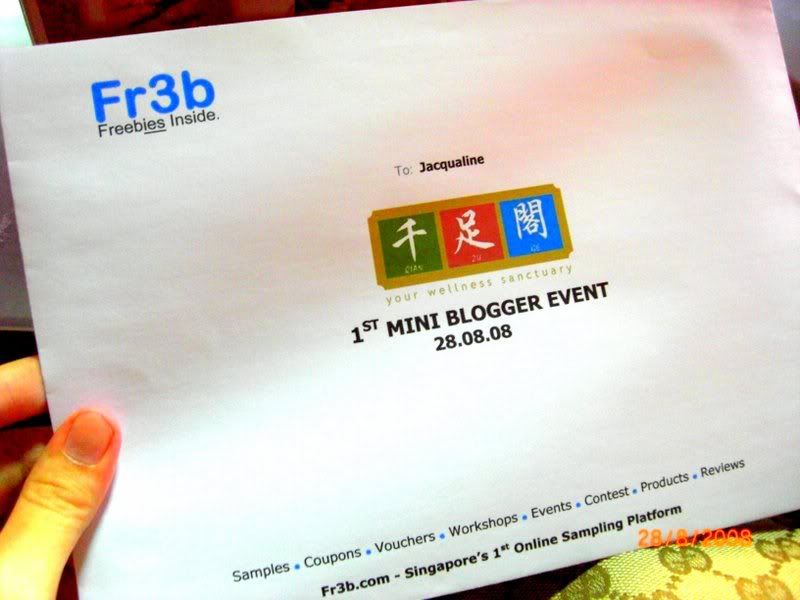 Here's the little package of love from Qian Zu Ge and inuovi! :D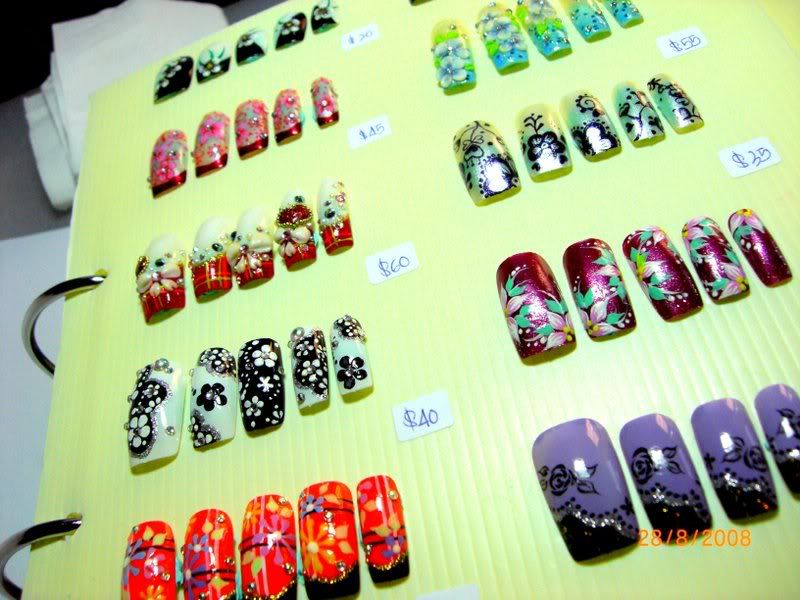 And of course, a huge range of nail arts for us to choose from!! I topped up another $8 for my 3D nail art, after off-setting it with my $30 voucher. Hehehe.
You can get a $30 voucher as well!! Read more info below later ok!
Weeeee my new fake, naked nails. Hahahhaa! You can take a peep at the picture above to see how tiny my nails were initially!! >.<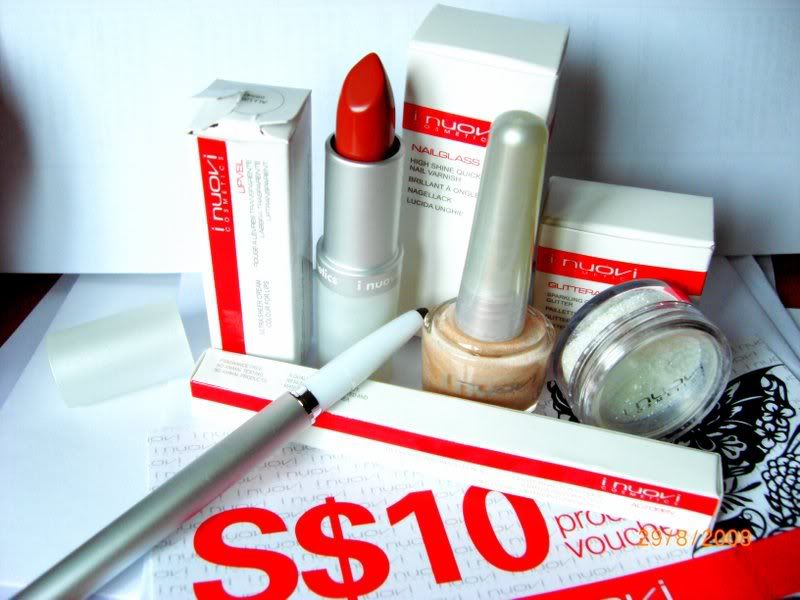 I tried out the inuovi products yesterday and I must say it's really not bad! I love the shade of the lipstick the most! And well, since I have my nails painted for now, I can't do anything much with the nail polish.... except to do a personal pedicure HAHAHAHA.
I made new blogger friends in the event as well!!
Yah I totallyyyyyy leached it from their sites! :D These girls are so cool, I had a great time talking to them and laughing! Makes my 2 and a half hours spent on my acrylic nails totally easy to pass! And Fidelis' boyfriend, Leon, turns out to be Garrett's younger brother!
Aiyo... how small can the world be!
I now have mighty long and pretty nails that I absolutely adoreeeeee.
Holly posted a not-so-glam picture of me with my pretty nails but nevermind la! My nails pretty can already!!
Ok I swear better, clearer pictures are on the way. :P
Now here's the deal:
The 1st 20 blog readers will be entitled to $30 off voucher from Qian Zu Ge, which they can use to get their Nail Extensions done!
The voucher is only valid until 17th September 2008, so don't wait ok!!

WHAT TO DO:
Call Qian Zu Ge at 62510055 and tell them the promotion code
JACCYY

See what the 6 featured bloggers got to say!




Qian Zu Ge is located at:
221 Balestier Road,
ROCCA Balestier #04-01,
Singapore 329928
******
Kevin, Darren and Jimmy picked me up from the event and together we picked XY up and we had super supper hahahaha!
So much for saying going on a diet. Ah!
XY, I still owe you the beer I promised lor! >.<
Ok, happy happy Friday because I'll be meeting CCH, Mel-ho, Liuyi and bla bla blah for dinner and the polymates for Zouk tonight!