5 Days 4 Nights at Ho Chih Min City, Vietnam 2008
Thursday, February 07, 2008
Usual to-know information:
Temperature in HCM city in February (usually CNY period): 31 – 32 degree celcius
Time: -1 hour from Singapore
Flight time from Singapore Changi Airport to Tan Son Nhat Airport: 90 minutes
Price I paid including food, transport, accommodation and flight: SGD$926
Currency: They take either USD or Vietnam dong.
SGD$1 = 10,000d
Day 1 (7/2/08)
I took a really late flight (as in late afternoon, LOL) at about 3PM and I landed in HCMC at about 4PM (Viet time), since it was like already almost evening, there isn't pretty much we could do except to check in into the hotel and slack our time off until dinner time.
One reason why I don't like afternoon flights, especially for a short flight. Bleah.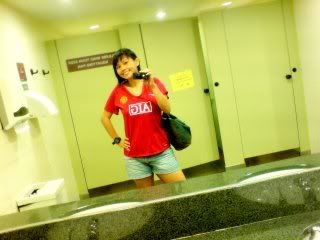 Hahahhaa RED is the colour for 初一!
I didn't bother dressing up to the nines since I won't be going for any house visitings.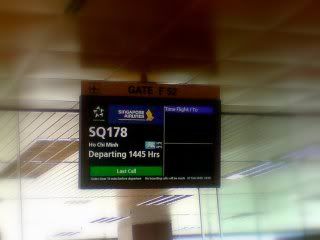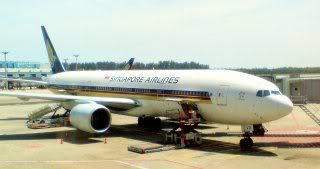 Our flight.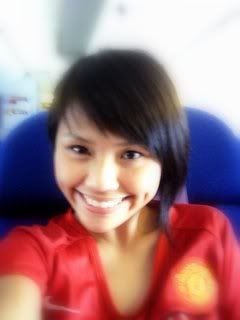 Some little munchies you get travelling with SIA, I had stir-fried pork with baked potatoes and loads of greens.
Tan Son Nhat Airport. The hustle and bustle of this city is… simply crazy!
Random roads I took while on my way to the hotel.
The first night was spent in ELIOS hotel, a 3 star hotel which proved to be much better than expected! *thumbs up*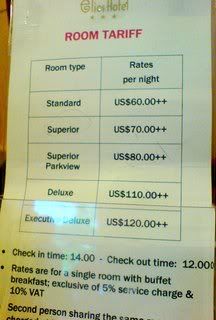 Here's the address and the rates, if that may interest you.
But of course, I believe by online booking through asiarooms.com and such might get you a better rate!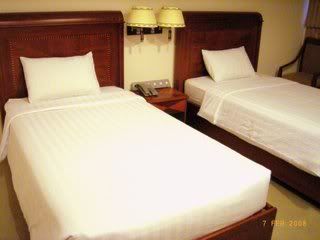 Weet! There's even a bathtub too!
City area was decorated with pretty lights as part of CNY decorations! I wonder why it's not red and yellow or something of a warmer tone? :-\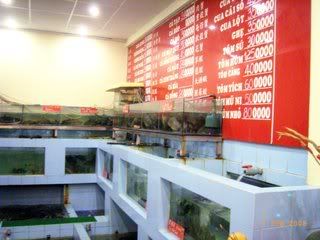 We dined in
Hoang Thang Restaurant
along one of the streets which I really can't spell. It's a chinese restaurant, but I generally think that Vietnamese should stick to Vietnam cuisine because their chinese cuisine is really… urgh.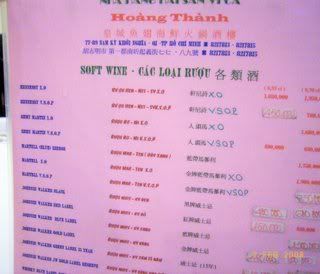 Here's a list of the general prices of alcohol in Vietnam. Dirt cheap, I'd say! A bottle of martell is going for $45? Never in Singapore!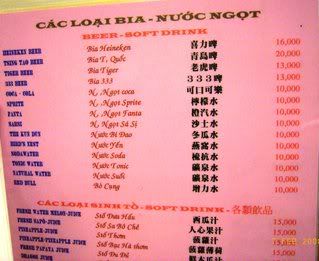 This is a list of general soft drinks. It's about SGD$1 per can, which is not really
that
cheap, but still it's affordable!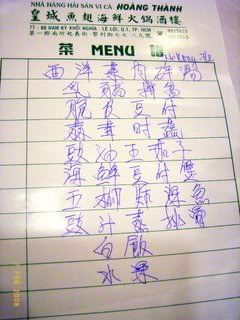 What was ordered for us.
Clockwise from top left: Deep fried tofu, bean paste overcooked chicken, Claypot tofu (tofu again!), watercress soup
Clockwise from top left: Stir fried brinjals, Sweet and Sour loads-of-bones fish, roast pork and a hungry mom and sis.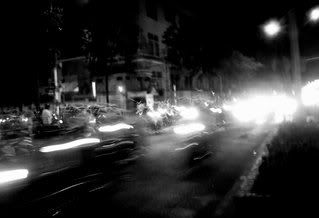 More emo photos on the way back hotel.
*******************************************************
Day 2 (8/2/08)
Breakfast in the hotel, it's a good variety so the food picker sisters didn't really have a bad time (yet) hahaha!
We visited the Cu Chi Tunnels after that. Cu Chi Tunnels is an incredible network of underground tunnels made by the resistance fighters back during the Vietnam War, they are just like little mice scurrying all over the place, making the Americans difficult to attack them. Smart move!
The tunnel we all had to go through before the actual tour begins.
Hahahaha! This picture looks super supernatural. LOL
Random home made traps to trap the American soldiers.
Home made rocket launcher. Imagine how smart they were given that it was in the 70′s!
More booby traps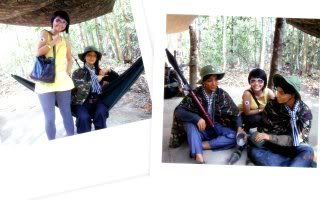 Wax figurines of the past warriors. Men, women, old, young all fought hard. Respect.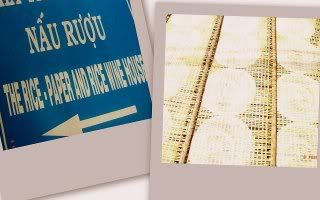 There's this little hut responsible for making rice papers as well, we use these rice papers to wrap up some greens and fish and we eat it like a popiah.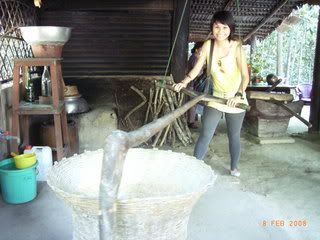 Here's me grinding the rice!
Sweet potatoes were the major staple for the people during wartime, since the Americans burnt most of their land so that they'd die of hunger, I s'pose.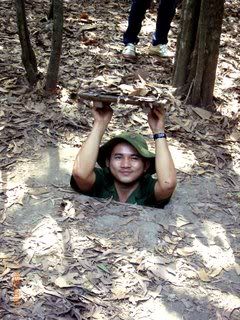 Here's an example of how a freedom fighter would snuggle into the tunnel, and conceal themselves from the American soldiers. I tried it too, and erm. I had a misadventure because I got stuck! Hahahaahhaaa!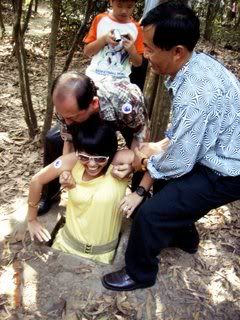 At this point of time, my dad was whispering in my ear that I am REALLY too heavy for him. ROFL!
Moving on, here is a display of sandals the guerrilla fighter would wear back in the olden days, they were made from the tyres of the unwanted tanks and all, very thrifty! Haha!
Undeterred by the misadventure earlier on, I mounted on a greater adventure, which is to complete about 20m of underground tunnel. Hahahhahahaha!
There you go! Out safe and sound.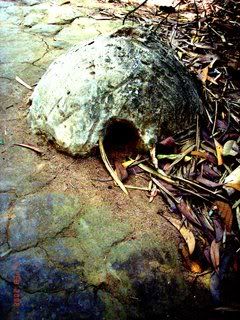 Here's a pseudo ant hive to mask as a oxygen pipe.
We headed for lunch in a restaurant called Miss Saigon, serving Chinese food again! It makes me wonder why the stupid tour agency would arrange us to go Vietnam and eat
Chinese
food. Like shouldn't we go Vietnam to eat Vietnam food? Geez!
After lunch, we visited some artifacts making factory. I don't really know what are those called, probably red mahogany wood or something.
Basically they'd take a piece of wood, carve out the insides of a particular picture, and then fill them up with various stuff like sand, egg shells and sometimes gems.
Then they'd lacquer the wood, and smoothen it until they shine, and then there you go!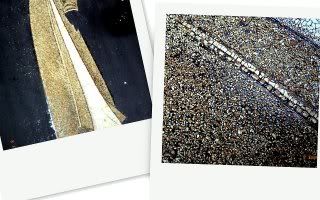 Here's a close up of what you get.. before the finishing job.
We had dinner on a Saigon Floating Restaurant, which they are supposed to serve Vietnamese food, but.. it tastes suspiciously like a badly done Chinese cuisine I swear.
A point to note, this is the
worst
restaurant I've been to over the past 5 days!
I was expecting a good view as well, since it's like supposed to be travelling on the river and all.. Like extremely romantic or something like that but I was so wrong! The water was so dirty and it has this weird smell coming out from it geez. It wasn't very appetizing I swear.
Check out the food. Since when does a RESTAURANT serve plain deep fried tofu like that!? And don't mention the badly deep fried weird tasting ngor hiang look alike. It tasted like crap.
Yeah. Very sad. And that marks the end of my Day 2 tour.
**********************************
Day 3 (9/2/08)
We woke up ridiculously early that day because we had to make a ~2.5 hours bus trip out of HCMC to Vung Tau. Vung Tau is about 125km away from HCMC, and is one of the resorts in the South of Vietnam. Their beaches are GORGEOUS!
We visited the whale temple shortly after checking into the hotel (which I'll cover later on).
Whales are sacred animals to the Viets and should anyone witness the demise of a whale on the shores, they are to prepare a funeral for it as though it is their own parents' and they are supposed to mourn for them as well. (*start thinking about the evil whale slaughter in Japan)
Here are some of the skeletons of whales found in the temple.
We proceeded to Hue Anh Restaurant for the supposedly Vietnamese Restaurant as well for seafood lunch, but errr.. the food isn't very fantastic lah.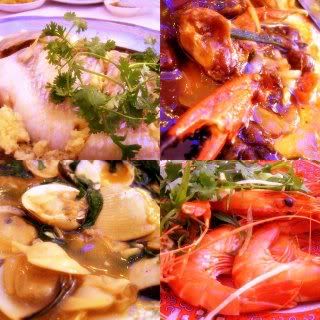 We had a bit of flower crabs, the usual lala, lots-of-bones fish, and tasteless prawns.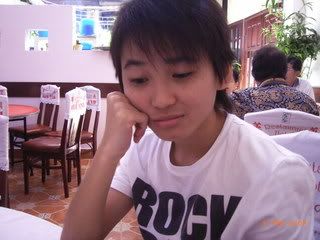 Jessica was very sad with the dishes as she's not a fan of seafood.
Luckily, the oyster omelette came to save the day! Even though she doesn't take oysters, she could jolly well make do with the omelette so I guess she didn't leave with an empty stomach afterall.
She's exhilerated. Hahaha!
We went back to the hotel for a short rest before continuing our tour, and by then we were pretty happy with a filled stomach, all ready for a good afternoon nap.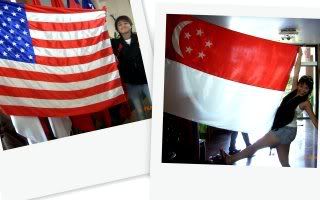 There were all sorts of flags over there so we had kinda wild time posing with them, LOL.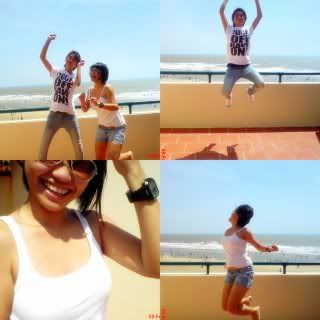 And we went REALLY crazy with self timers and the breezy balcony overlooking the sea!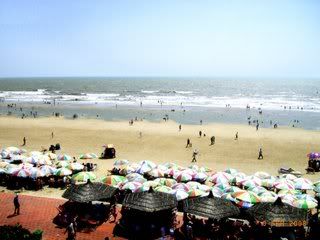 Check out how crowded the beach is!
Really retro bedsheets to go along with the old room, hahahha!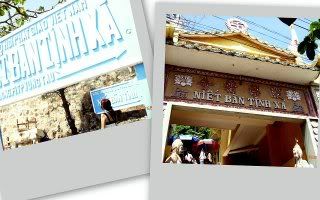 We visited another temple known as
Niet Ban Tinh Xa pagoda
situated mid-mountain high, and there was this huuuuuuge Buddha statue lying down there! Simply magnificento.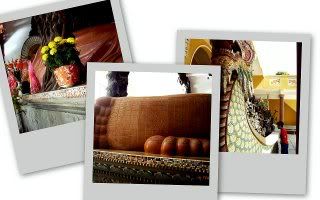 Check out how big Buddha's foot is!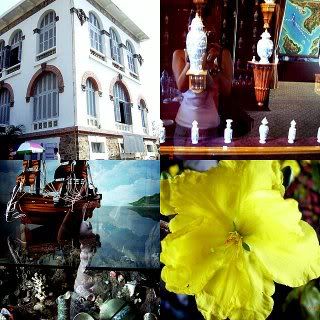 Bao Dai's White Palace is the next attraction. Bao Dai is the last king of Vietnam's feudal dynasty, and his house rocks because the scenery off the windows are awesome!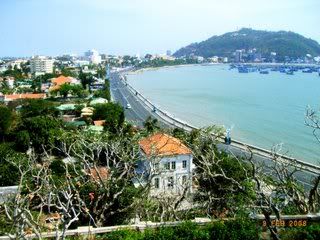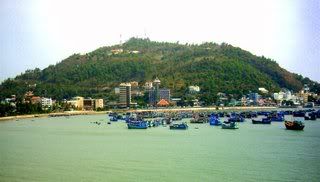 See? Nice right!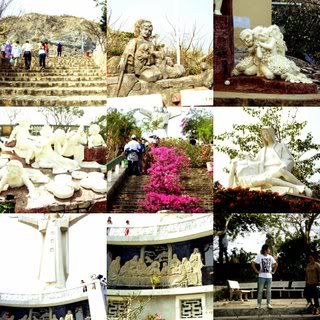 The last attraction for the day was to visit the statue of Jesus Christ. Having the actual one in Sao Paulo, this is somewhat like a replica of Jesus the Saviour statue. Some of us made it to the top, like after 815 steps of stairs and uncountable slopes.
Geez it was indeed a harsh trip up heaven!
I was so excited when I finally made it up there! You guys don't know how much I feel like giving up halfway up my God!
Birds eye view off the mountain top where the statue was.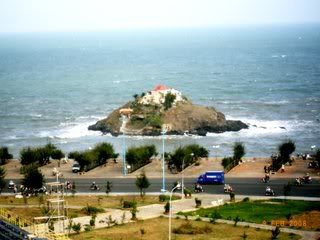 The Ba Islet, known as
Hon Ba
in Vietnamese is located along Nghinh Phong Cape, along Ha Long Road. This road is the most scenic road in Vung Tau!
Atop this islet, there's an ancient pagoda surrounded by sea waves all year round, but when the tide is low, visitors can actually walk over to this tiny island for prayers.
Dinner back in the same restaurant as lunch, at Hue Anh Restaurant. I really don't understand why the food sucked so bad and they kept making us going back over and over again, eating almost the same dish. URGH!
******************************
Day 4 (10/2/08)
We left Vung Tau early in the morning and proceeded back HCMC, and then towards My Tho to visit the Mekong River.
Anyways, here's what I had for breakfast. I kinda like the breakfast over at the resort, hehehe.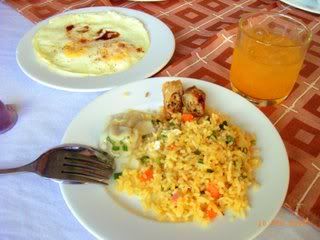 On our way back, we visited this temple.. which I can't really remember what religion it is for.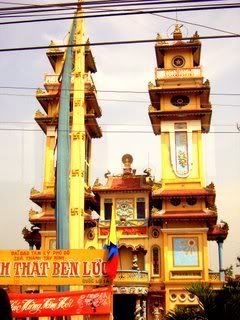 Basically this is like a combination of all religions, and people who believe in this religion prays to everyone (I mean all of our Gods), from Jesus Christ to Dua Pek Gong to Guan Gong to Confuscious.. They pretty much pray to all the Gods and deities we pray to altogether. Even Allah!
The temple is also made up by different parts of different religions, the two towers represents part of the building structures of taoist temples and buddhist temples, while the circular windows resemble a mosque's, or so what my tour guide mentioned.
This is the founder of the religion, and he sits on a tiger.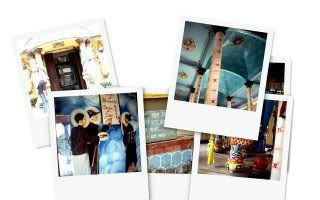 Here's the inside of the temple.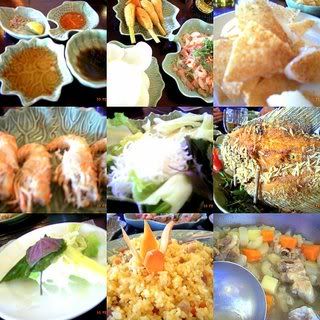 After about 2.5 hours of bus ride, we finally reached the Mekong Rest-stop Restaurant! I had the best Vietnamese cuisine over here, and the food seriously rocks the hell out of me.
We really don't know what this is called, but basically they will deep fry the flour balls into huge ass balls, and then cut them up into little pieces and it's REALLY crispy and a little salty at the same time! Very delicious!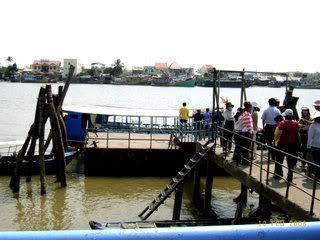 After lunch, we travelled for about another 5 minutes and we reached the little pier where we'd take a boat ride to Thoi Son Islet, where locals call it the "Fruit Island".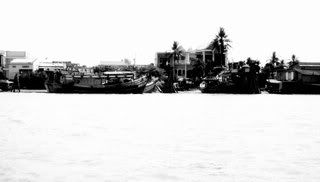 This island was formed by the many many years of coastal welling and all, and when finally land is formed, villagers went over and planted sea coconut trees at the perimeters of the island so that erosion could be minimized.
Apart from that, these sea coconut fruits could be sold for money as well, so it's a win-win situation!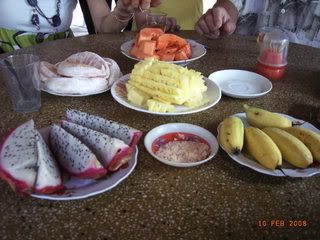 Our heavy fruit sessions hahaha!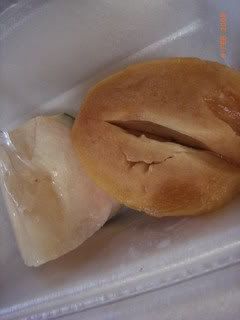 Vietnam has this local fruit whereby they called it the Milk Fruit because its juice is milky white, resembling milk. Quite delicious even though I'm not a fan of fruits.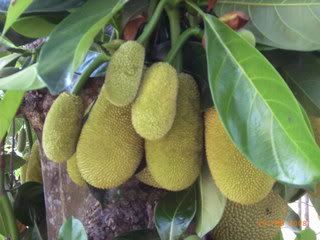 Check out the amount of jackfruits growing from the trees! The land must be really fertile!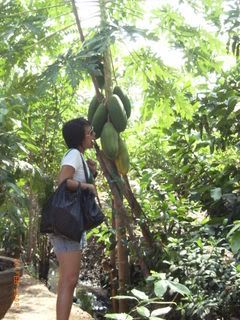 Yummy mangoes fresh from the trees.
More fruits.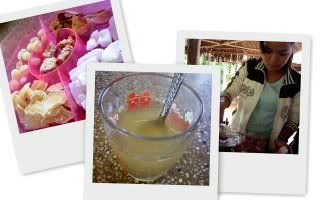 We walked a bit more into the island, and there were people who sells honey-tea, which is a simple mixture of honey, lime and chinese tea.
I rather like the taste of honey, a good replacement for my daily honey red tea!
The stuff there were quite expensive though. It's like freaking SGD$2 for a small pack of peanuts! :O
We continued the walk further down, and we mounted on a small sampan and we sailed through the narrow channels of Mekong River.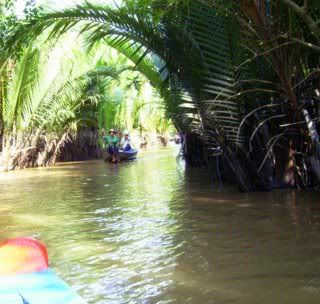 I love this part of the trip the most! It's truly.. amazing. To have these water-people rowing us all the way out into the sea, where our boat would be anchored and waiting for us there.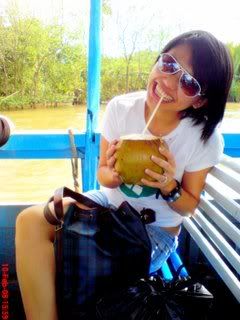 And having coconut water after a hot trip gives it another PLUS!
Random emo pic again.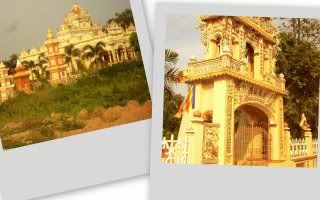 We had loads of temple visiting during this trip, I don't know why. It's probably because Buddhism is the major religion for the country, and therefore by going to these temples, we would experience their cultures more.
Anyways, the next attraction we were brought to is the Vinh Trang pagoda.
It's nothing spectecular, really. Just loads of deities that we can pray to, and it's a quiet little temple with a long history back.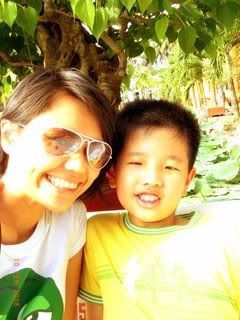 The funniest guy in the entire trip and me.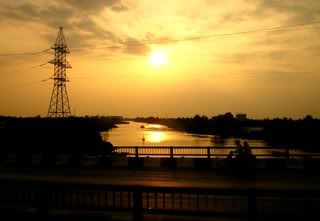 The last sunset in Vietnam.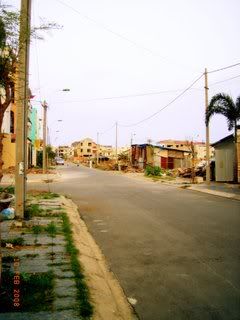 Long quiet little lane with little houses along the road.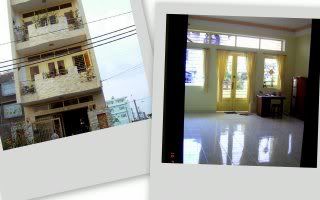 We were invited to our tour guide's house for his housewarming as he just moved into the place and OH BOY that house is HUGE ASS I swear!
It's like a mini building, 4 storeys high with each room as big as my freaking living room God damn it!
And he spent SGD$160,000 on it, inclusive of the land, the renovation, the building of the house.. etc. You can't even get a freaking 3 room flat these days with 160K in Singapore!
Yeah, I was truly amazed by the sheer size of the house, even though it was still a tad empty when we visited.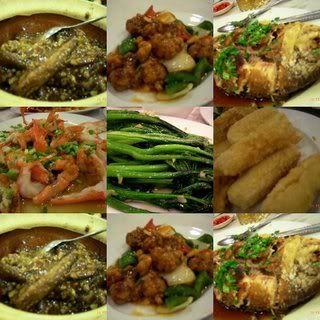 Dinner at Hoang Thanh Restaurant, which is not too bad because at least they served my favourite Gu Lu Yok! Anything goes for me with Gu Lu Yok! Hahahhaa!
I ran out into the streets looking for a birthday cake to celebrate a belated birthday for the sister (since Mom and Dad didn't celebrate with her on her actual birthday itself, and that day happened to be her lunar chinese birthday or something), using my limited Vietnamese. ROFL.
But goodness gracious me, with the help of the suddenly-caught up tour guide, we managed to secure a cake that costs us only 100,000 dong, which is equivalent to SGD$10.
Yippee!
She looks so happy with the too-fattening too much cream cake. LOL.
We stayed in Chancery Saigon Hotel for the last night, and I kinda like the suite we were put in!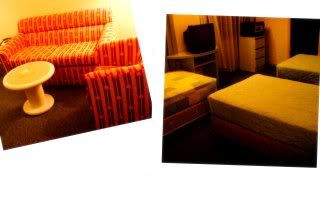 Despite the fact that we were supposed to be split into 3 double rooms (cuz that was what we paid for), the damn tour agency cheated us by giving us only 2 TRIPLE rooms instead.
Don't they know it's much cheaper to just add a bed, instead of having a new room for us?
I bet they know, because how else do they earn then!? Talking about that, I'm so gonna go back to the agency and demand a refund for the access amounts we've paid.
***************************
Day 5 (11/2/08)
This is the breakfast for the day, pretty nice as well! I love the last few breakfasts because they are too yummy!
After breakfast, we took a short drive down to the nearby War Remnant Museum and I must say this is quite a heart-wrenching trip.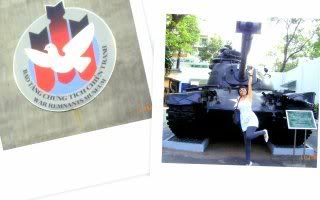 Okay yeah I was pretty excited with the tanks and fighter planes.. My boyfriend is a regular! It's in me! :-X
Anyways, we moved on into the actual museum, and saw many disturbing photos that wrenched my heart.
Vietnam War, also known as the Second Indochina War, and in Vietnam as the American War, took place from 1959 to April 30, 1975. 1.4 million military personnel were killed in the war, and only 6% were members of the United States armed forces.
15 million tons of munitions were employed by the Americans, all in the name of preserving democracy in the South of Vietnam.
I mean, what's their problem!? It's Vietnam's problem, let them solve it themselves lah! Why so kaypoh? Why kill innocent people? Why spray dioxin and cause so much environmental problem to Earth? Why do all these?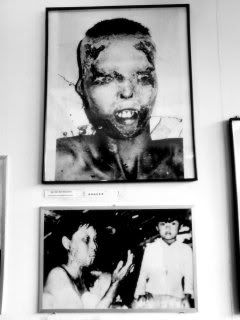 These people are victims of white phosphore bombs. Look how badly burnt they are!
Dioxin was employed as Agent Orange back in the Vietnam War to use a defoliant in the trees, so that freedom fighters have no place to hide, with all the trees fully bare.
However, dioxins have long half lives and they cannot be degraded naturally. This eventually caused many major birth defects in children around the area, and people who have exposed to dioxins also eventually gave birth to genetically deformed children.
This entire war the Americans have showed how barbaric they are. Honestly, if I were to made to choose who is more cruel, the Japanese in WWII or the Americans in Vietnam War, I won't know what to choose.
Both these people are equally sick in their heads. They're like desensitized, they no longer feel the same way as humans do anymore!
The above picture reads:
The above picture shows exactly what the Brass want you to do in the Nams. The reason for printing this picture is not to put down the G.Is but rather to illustrate the fact that the Army can really fuck over your mind if you let it.
It's up to you, you can put in your time just to make it back in one piece, or you can become a psycho like the lifer (E-6) in the picture who really digs this kinda shit. It's your choice.
And above these words are 4 G.Is posing for a picture with 2 heads of the Vietnamese, cut off from their bodies.
This is sicker than having food poisoning and having diarrhoea the entire night!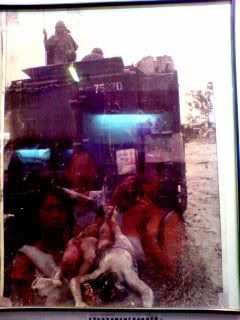 This picture shows how the Vietnamese were being tortured by being attached to the back of the tonner, and then dragged to death. Urgh.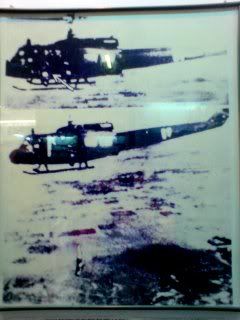 Vietnamese villagers were also ushered into helicopters, where grilling and interrogations were done in the air. Subsequently, the people were thrown down from the helicopter. You can see a fella at the bottom of the picture, actually.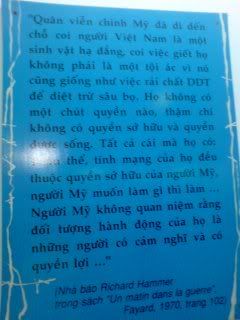 A brief translation of this board says that the Americans have went as far as treating the Vietnamese as a lower class creature, and that the fact of killing them doesn't constitute as a crime. It's just like taking DDT poisonous substances to destroy insects.
Vietnamese don't enjoy the right to live, or the ownership of their bodies. They all belong to the Americans and the Americans can do whatever they like to them.
It's very sad.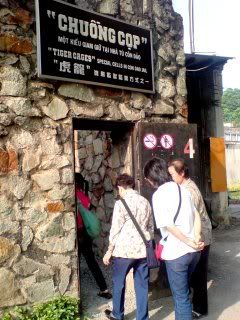 We moved on to the Tiger Cages, these are special cells in Con Dao Island, where all the POWs were captured and locked in there, with no chances of escape. Even if they do escape from the cell, they can never make it back home cuz the island is surrounded by the sea.
These POWs are usually political prisoners, and the cells were only about 2.7m x 1.5m x 3m, which is like probably the standing space of 2 persons?
During hot season, 5 to 14 POWs were kept in this small area, while in winter, only 2 of them were locked up in the very same area. Eating, sleeping, drinking, poo-pooing, urinating.. are all in the same area. The Americans will then go around the jails, jeering at them, throw sand at them, deprive them of food and water..
Prisoners' health thus deteriorate, resulting in huge casualties.
This is the Guillotine, used to decapitate Vietnamese patriots.
*******
Unhappiness aside, we left that super sad place and we went visiting the City Post Office and the Notre Dame Cathedral!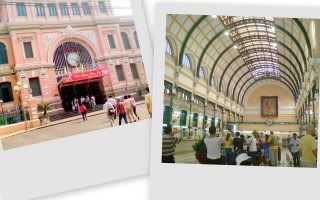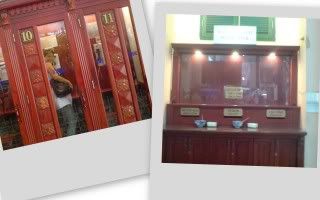 Many people buy post cards from here, and then send them out at the same time.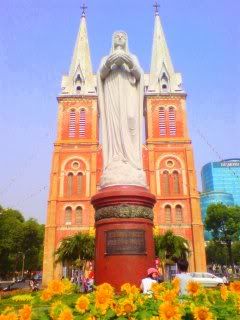 This is one of the favourite places in the itinerary. I have always loved the statue of Mother Mary, because she always gives me a sense of peacefulness when I look at her. Sometimes, I could just sit in church and watch her.. it just felt so serene and soothing.
It's just weird, hahhahha!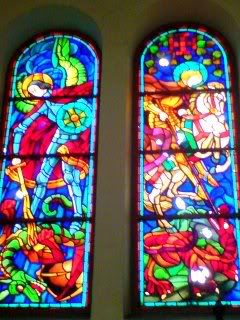 Check out the beautiful coloured glass!
Christ, and loads of plaques for eternal thanks.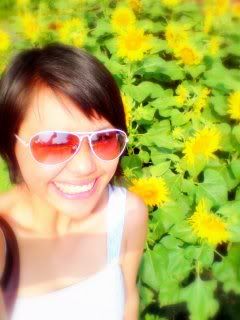 SUNFLOWERS!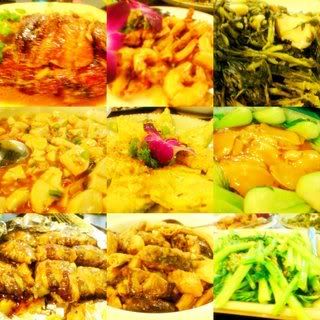 Lunch was at Bun Ho Restaurant, and the food wasn't too bad! We finished up quickly, and visited Ma Zu Temple.
Too smoky. *cough cough*
We visited the Ben Thanh Market too, how can I miss such a huge shopping area when I'm there!?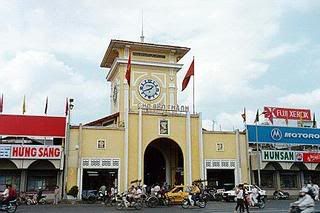 Over here, I really used up all my bargaining power I swear! I was so tired at the end of the trip I just conked out in the bus! I bought a pair of Ray-ban shades and the sales lady quoted my
96 SGD
!! And it's just an imitation okokok! Not even a pair of real ones even though I must admit it's an AA grade imitation.
But paying close to the original price for an imitation is UNACCEPTABLE!
In the end, I paid
15SGD
for the shades only.
And I topped up with a Versace shades for myself too! I bought 3 pairs of shades altogether, and it wasn't even exceeding 30SGD.
These people here chop your carrot head far worse than those in Chatuchak! >:(
So, I got myself two bags, a pair of shades for my sis and two pairs for me!
After that it was a long bus ride to the airport, and just before I know it, I'm safely back home in the comfort of my armchair, safe and sound, typing my entire trip out.
I hope you enjoyed the travel log as much as I've written them! Bye!