Almost The End!
Friday, March 16, 2007
Life has been pretty monotonous for me these days, hence the lack of updates. Been attending loads of talks, from parvoviruses to some Rickettsia-like bacteria found in abalones.

I guess the exciting part is that my colleague is inviting me to go over to Phuket with her, to harvest abalones. But, I don't even think it's confirmed yet. *shrugs*

Anyways, I made a trip down Chinatown about a fortnight ago, for some shopping and sightseeing.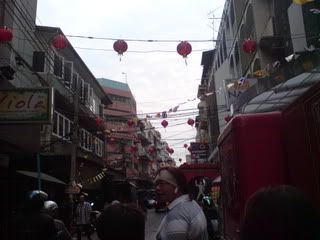 I think it's like damn "lian bang" (Malaysian) in the streets of Chinatown! Loads of roadside stalls, gold shops, gold shops and LOADS of gold shops, shops selling mushrooms, abalones, scallops and everything Chinese.
It's a pretty good place to hang out, actually.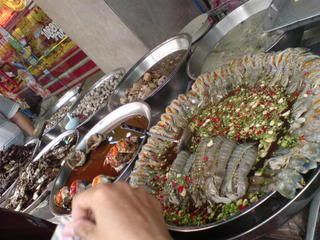 Look at the shrimps. I wonder if they're even cooked. And the flies buzzing around, and the fishy smell. Urgh.
Reminds me of the stupid air-conditioned fish stall I had to visit while marketing with Daphne in Perth, cept this is probably x100 of the stench.
I can bet with like my whole fortune that Daphne will probably just foam at the mouth and get into fits if she has to be there sniffing those stuff.
Despite the lack of hygiene in this place, I came across this stall. Her cooking were like so YUM! I could smell it like 20 feet away.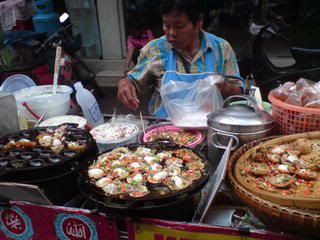 I actually don't have an exact idea of what exactly the hell was that, but since she allowed sampling, I took a bite and I realised the small little half-balls were made of flour mix.
And inside there were eggs, carrots, some spring onions and either small pieces of squid, or oysters. It adds on the oomph with really hot chilli sauce.
Yummy.
With 8 pieces for 20 baht (SGD$1), I bought a box back and ate it as tea break while watching Desperate Housewives.
***
Didn't really do much shopping over the weekend, I only bought a season of CSI, and that's about it.
I'm getting pretty much broke by the end of the month already. With Chatuchak, MBK shopping, I busted about 100 odd. Plus living expenses, sigh.
Despite things are cheap here, it is still hard not to spend so much. ):
The Vietnamese colleague spent her last working day in the lab, giving her "Thank-you-for-having-me-I-hope-I-can-come-back-again" speech and a free lunch for everyone.
The babe in white is our Vietnamese colleague. (:
Here it is!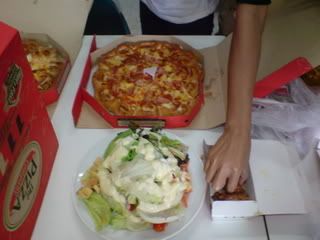 Thai pizza. Hahaha.
I think I am born not being a fan of pizzas. Whenever my sisters feel like ordering pizzas, I will always try to convince them to buy macdonald's instead.
It's not that I am a fan of Mac's too, just that sometimes when I see such a big pan of pizza, I get so overwhelmed suddenly I don't feel hungry anymore.
I tried a slice of the seafood pizza off the table, and oh boy it sucks.
Seriously, I would prefer Tom Yum soup with rice in Thailand over pizza anytime. The pizza is like sweet, and yet having this weird seafood taste…
Not a very good combination I think.
Photo taking sessions after that..
And yeah. The people working in the ASDS Lab.
***
Talking about ASDS, we kinda killed several more virus-infected shrimps, injected them with some fixatives and then sent for some microscope scanning to look at the viruses.
It's kinda gruesome, I think.
First, we try to catch some shrimps. Since I freak out when they start leaping around when we haul them up above water, my very kind partner has decided to help me with the job.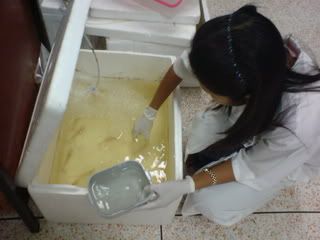 And then, we carry them into the fumehood. A fumehood is like a closed area, where it is disinfected such that we do not introduce more bacteria into the shrimp, other than what was on its surface.
And we prepared the fixatives.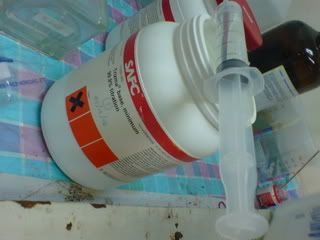 This kinda works like wax, it freezes and fixes everything in the system like what it is, so that it does not degenerate when the shrimps die.
Or else, we wouldn't be able to see anything if everything is degenerated.
Step 3, we inject these fixatives into the shrimps, alive.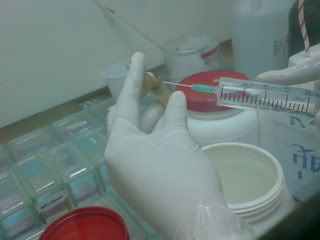 First into their pancrease, then heart, then muscles.
It feels quite sick when they twitch helplessly as life is being sucked out of them.
But of course, for the development of science, sacrifices has to be made!
The fixed shrimp. Looks like it's cooked, doesn't it?
****
Anyways, on a lighter note, here's a picture of the soya bean milk over here! It's known as the Nam Taohu.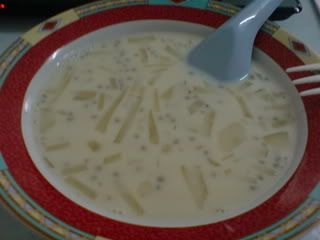 It's soya milk with jellies, pearls and sago.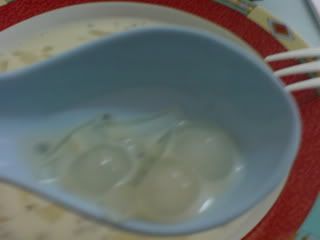 Yeap, that's the usual update.
Love ya'll.