A present for myself - 21st Birthday Perth Trip
Sunday, September 10, 2006
It's the 3rd day I got into Perth, and everything has been great so far. In fact, it is so good, i seriously regretted not coming over to study when I finished my A's, and then waste my freaking time in SP now. *grumbles*

I stay over at Paul's, who has graciously rented out his room to me at a really cheapo rate of 8AUD per day. Although the room is a little bare, with only a bed and blanket, but I am glad that I have a roof over my head while over at this really budget trip.

Anyhow, on the first day I touched down, Daphne came to pick me up and we went to our favourite Supre store for some first minute shopping before the store closes.

One thing sucky about Aussie, is that their shops close really really early, like 530PM and they are all closed. I mean, of course there're certain supermarkets who open up to 10PM, but that's like only 1 or 2 stores around.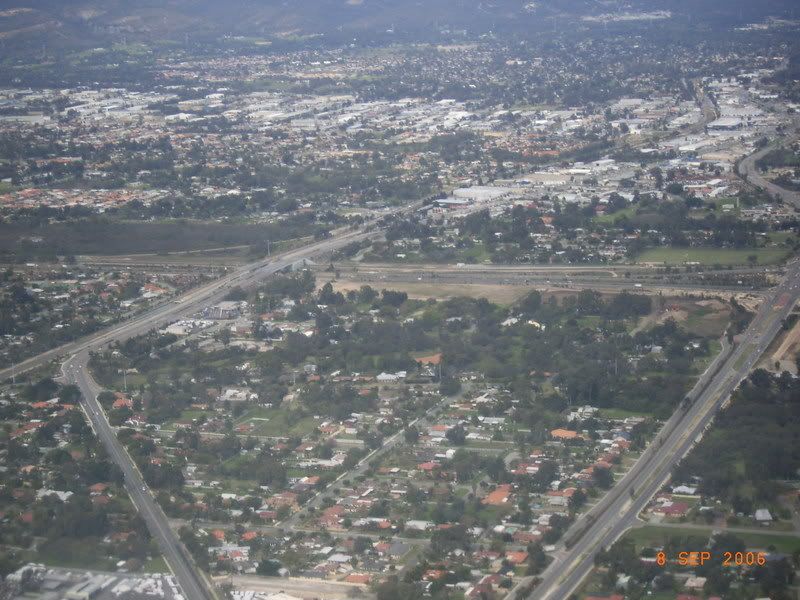 The bird's eye view of Perth from the plane. =D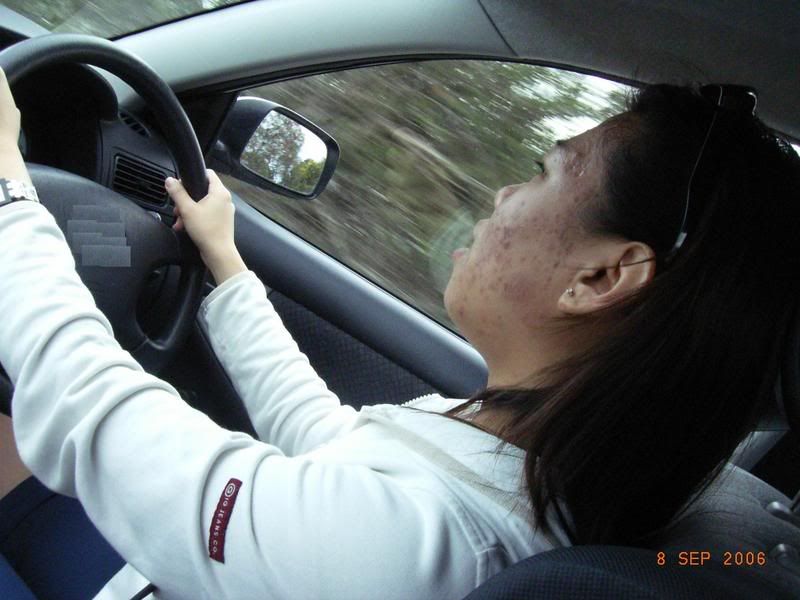 You see her really powerful car, SAAB 93!!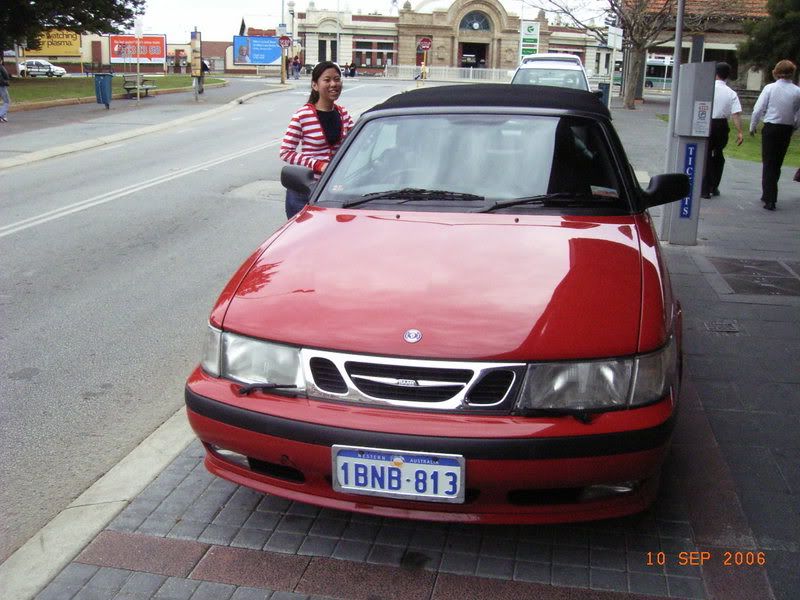 Daphy driving in her car, picking me up from the airport.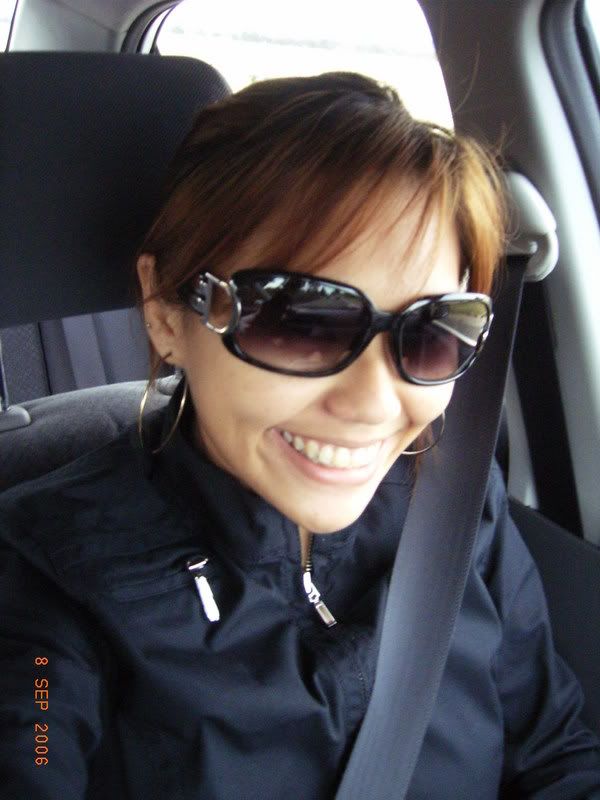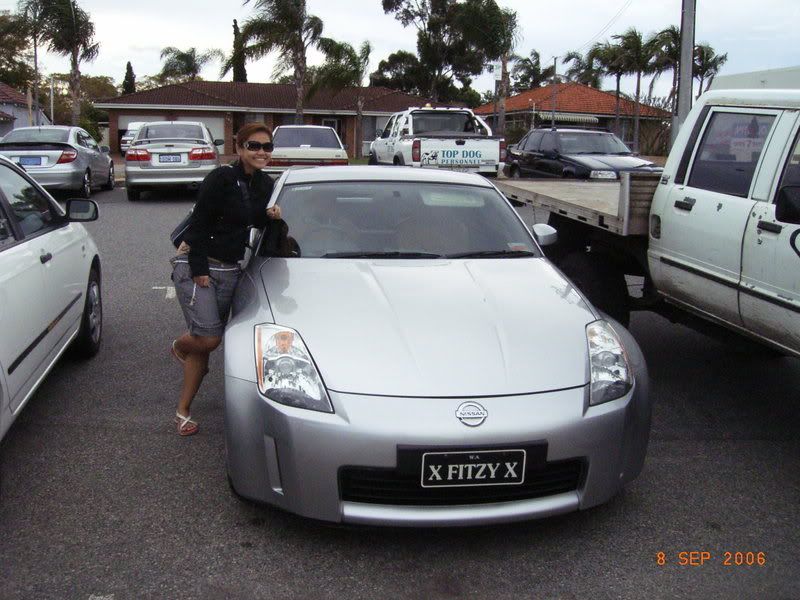 Jaccyy and her Nissan Fairlady!!
Daphne and I *heart* rented cars. We race each other from Nedlands to Applecross every single damn night.
Me, feeling very happy with my pink Supre bag outside Supre. Daph thinks I'm acting like a perfect tourist!! (Of course I am a tourist! What is she talking about?)
The day ended just like that with us eating in at her place. Daph CAN cook ok!
We had Gu Lu Yok, the chicken, diced and fried with capsicums, onions and tomato sauce. Tastes like heaven I tell you!!
She cooked some fried brinjals, which she claimed was E'an, her housemate's secret recipe. It was good, but I am not exactly into brinjals.
Her yong tau fu soup was fabulous. Like a total chinese cuisine in an English community.
Retired for the night at Paul's, before waking up early to Rocketfuel's to grab some coffee and hot chocolate.


Me, outside Rocketfuel with my hot chocolate. They even had marshmallows to go with it! Absolutely fantabulous.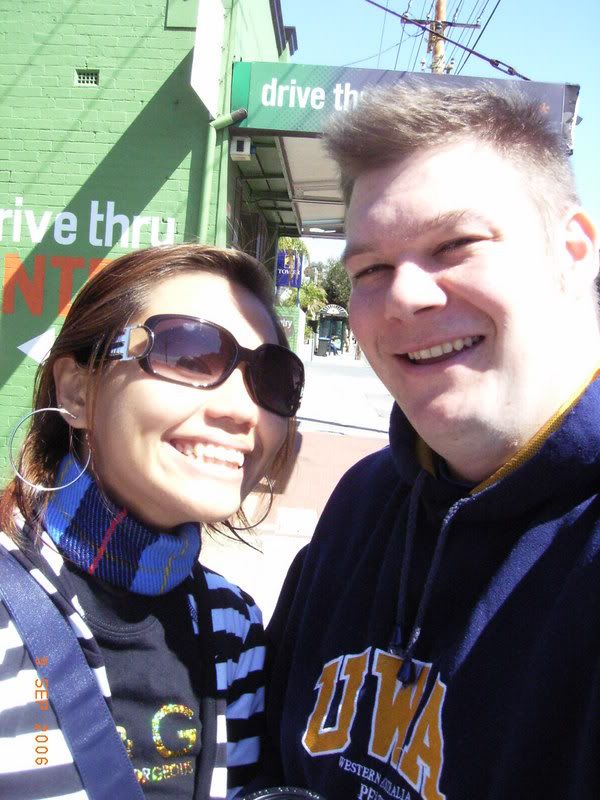 We went over to Daffers' (that's how Paul calls Daph. LOL) and then Daffers and I went to pick her parents up from the airport.
We proceeded to Kings' Park after that. It is such a pretty little place there! It's like up in the hills, so all the wildflowers were bloooming like mad cuz it's early spring now.
We can even see the scenery on Swan River, and it's absolutely romantic.
A definitely must-go place if you're travelling as a couple. (Yeah, that made me feel kinda groggy inside.)


The very pretty view. Pardon the line in between, I kinda took 2 shots, and combined the photos. =D
Daph's family and me. They were the ones who cook fantabulous dinner for us, takes good care of me when I'm travelling with them, and most of all, for being so generous with me for all the little little things they paid for me.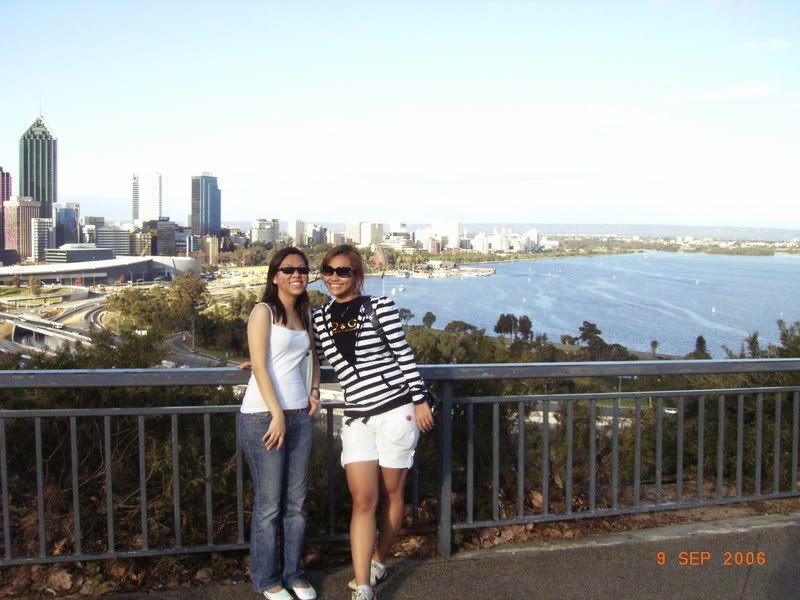 My lovliest lesbo partner and me. =D
Psst. See my zebra-striped top that I was lemming for? I got it at Supre at 20AUD only!!
Daph doesnt have photoshop in her lappie, so I think for the rest of the pictures, I'd upload and PS them at home. =D
Drove down to Frementle this afternoon, after a round of mahjong last night with Kenny, E'An and Daph.
Daph the silly actually za hu, ending up losing to everyone. -.-'' We went out to Currie Hall for some Aresenal-Middlesbrough and Man U game, only to have me sneaking out halfway to the laundry room to look for the girls, and we drove to Northbridge for some kebabs and salted chicken for supper.
Frementle was good! We had loads of seaview, loads of walking, fish-and-chips, ships, pretty dogs and all.
We even witnessed the funeral procession of Peter Brooke, the racer guy who died in a crash in Perth recently. They were putting up fireworks in the day in memory of him, in which I had crazily thought it was a terrorist planting bombs. =p
Anyhow, I think I gotta run. We're going down city tomorrow for some shopping, and I desperately need to get back to warm my heat pack, to warm my bed, so that I can have a nice warm bed to sleep in such a cold weather.
ciaos! *poofs*

+++

UPDATED:



Like I've mentioned in the previous post, the first place we went sight seeing was King's Park. With loads of wildflowers on full bloom, King's Park can be considered as one of the prettiest parks in Perth!

Continuing, Daphne and I actually realised that there are a couple of corny people with corny carplates. LOL. She caught a Mr. Hooker car plate on her way back from school a few days just before I arrived, and it was kinda funny. (Read her blog for pictures)

Here's my fair share of corny carplates. Sometimes I wish Singapore can have such implementations too. I'd have JACCYY as my carplate. How cool right.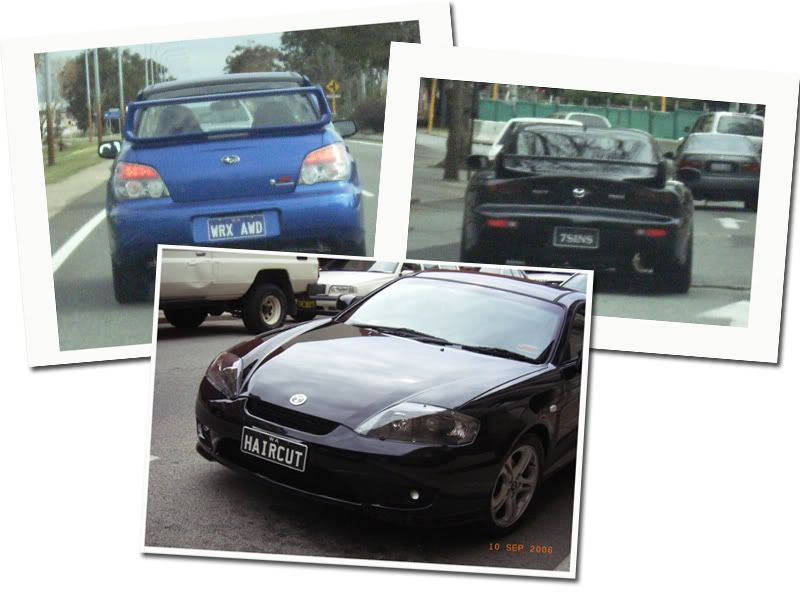 As Daph's parents arrived rather late, we didn't have much places to go before all the shops close. It was kinda sucky because all shopping arcades, most supermarkets close at 5PM. After that, you're pretty much left with nothing to do.
And their club, Metro City, only opens on Saturdays. I'd elaborate more as I go on, because I only visited there in my last night.

We took a 45 minutes drive the next day down to Frementle. It was a Sunday, so Frementle Market was open. It was very much like Bugis Village, except that it is much more spacious, and a lot more street buskers.
Frementle is famous for their Fish & Chips, so we headed down there, and ordered some grilled fish and Fish & Chips. I'd say it tastes alright, not exactly fanta-fabulous, but definitely better than the rest out there.
Racing driver Peter Brooke passed away the very day I landed in Perth, so subsequently there were funeral services in Frementle, and fireworks were released in memorial of him.

Daphne had a test the following day, so we kinda spent our day in Frementle, and then drove back home at about 5-ish, dinnered, mahjong a little, and then we were basically off to bed.




Perth City is a highly raved city, it was as if the city was so big and fabulous, just like a mini Los Angeles in action.

But Perth City only has 2 streets. =(

Nevertheless, the shopping was quite affordable there, apart from food that costs like CRAZY, stuff like bikinis and havainas are rather cheap.

I bought 3 pairs of Havainas back from the surf shops! =D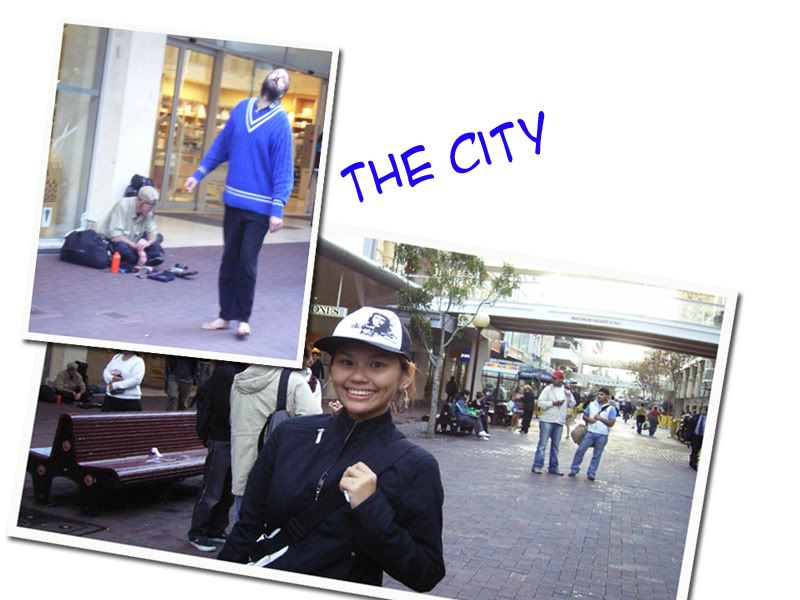 Oh. Looking at the picture above, the army guy who was sitting on the floor was singing loud army songs, and then he proceeded to pretend that he was shooting down some, I don't know, Japanese soldiers?

I think it's the overdue History lessons I had back in Secondary 2. Besides, I ain't much a fan of a Japanese either. They produce boring schoolgirl porn. Like HELLOOOO. Schoolgirls porn are like so yesterday lorrrr.

Those girls are like mentally retarded or something, they keep repeating the same old phrases. Over and over, like a spoilt radio. Like that can cum meh? And what kinda fantasy is a schoolgirl fantasy?

Oops I digressed. Yeah, anyway, he was basically singing and pretending he was still in a war, which I kinda felt sad for him.

There are really some people who devote themselves entirely to the war, to serving the people and all, such that when the war ends and everyone's lives return to normal, they are stuck in this mentality that they are still fighting a war.

And that's sad, cuz no one remembers what these people did, or were willing to do for the country. =(

The man in blue in front of him is basically a siao ting tong lah. He was turning round and round and round, and walking forward at the same time. So if we were to map his path from one end of the City to another, it basically looks like this:


He gets so giddy, for a moment he'd stray out of his telephone-line-trails, almost nearly banging into some terrified pedestrains.
Subsequently, on Tuesday morning, which is like my 5th day into Perth, Daphne and parents together with me, went down South for a road trip to Margaret River and Albany.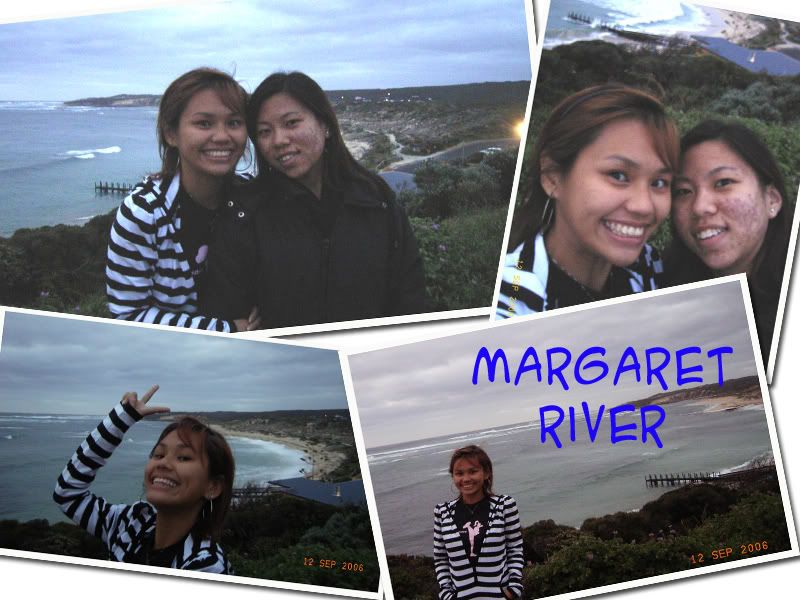 We stopped by Margaret River for 2 nights so that we could visit the Candy Cow, and several wineries which I will cover later.
Margaret River is really a beautiful place where couples should, and die die come here. The skies in Margaret River is so beautiful, so full of stars, so quiet and serene. I can't help but day-dream about how romantic it'd be, if my boyfriend were to propose under the such skies.
I think I will faint first, wake up and then say yes. *blushes*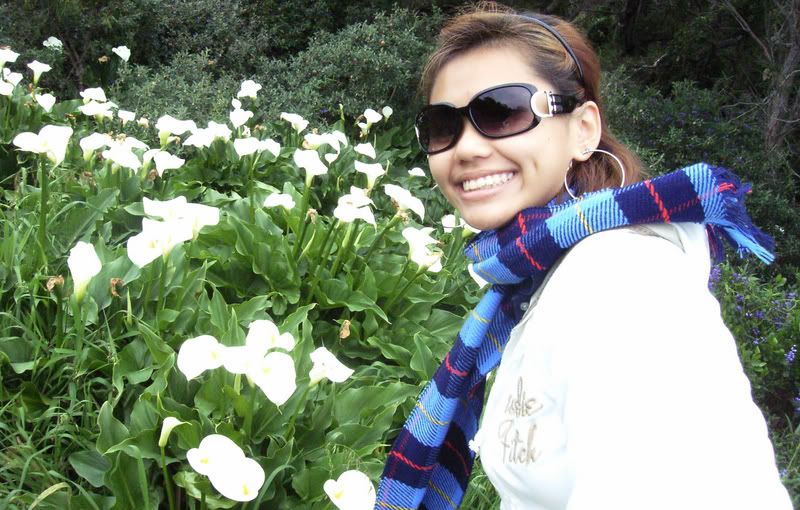 Wild lilies by the roadside. The entire field of them somemore. How pretty!
We went down several places, like the Fonti Farm, Candy Cow, the beach and all.
Talking about beaches, I forgot to mention the pictures before the wild lilies. We kinda arrived there rather late, so we were on the carpark facing the beach.
Truly beautiful. The wind was blowing right in your face, as the residual sun rays dispersed across the sun-burnt skies in deep red and purple, before slowly turning into dark blue, and the the sun finally disappears into the black blanket full of stars.
Make you want to be there too, isn't it? *grins*
We went back the next day, before we departed for Albany and Augusta.


Fonti farm, where cheese are made and sold. Milkshakes too. =D
I look really constipated in front of the Fonti Farm sign cuz the whole plant beside me is so full of flowers and bees, the whole bush seemed to be humming by itself already.
I was kinda afraid that I might get stinged or something.
The red geberras are all by the road side, wild! Want to how pretty leh! I like!!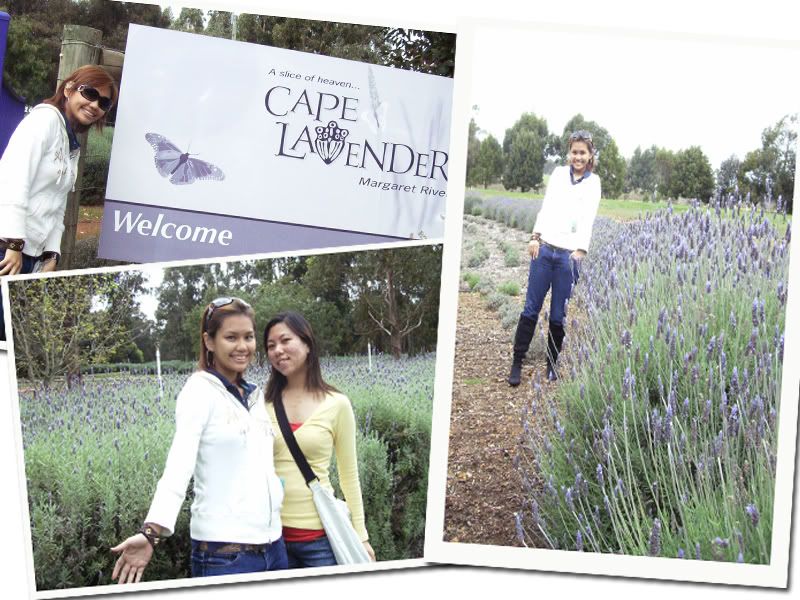 Next stop, Cape Lavender. The farm full of nothing but Lavender plants of different species. The whole place was blooming in pretty purple, bees were all busy collecting nectar, whereas people were strolling blissfully by the pond, or sitting down in the cafe nearby, having a feast of lavender cuisine.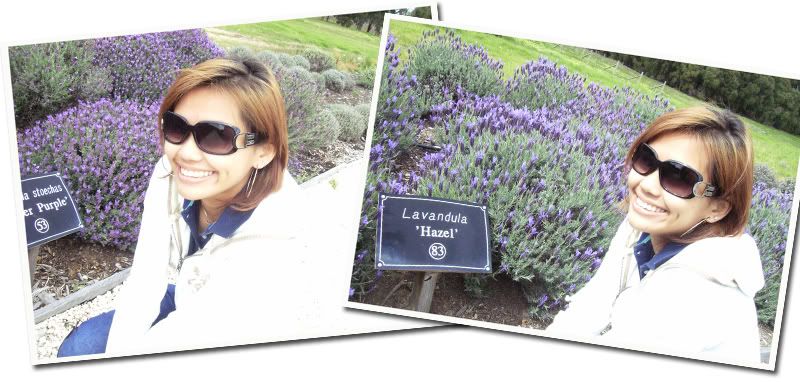 Same pose, different species. I *heart* Lavender!
And this, has gotta be my favourite picture in Cape Lavender. Heaps of Lavender behind me, buzzing away with life. =D
We moved on after that to the Chocolate Company, which all of us had conveniently called it "The Chocolate Factory". I was really enticipating to see Willy Wonka!
Despite there ain't any Willy Wonkas for me to say hi, no wonderful garden all made of chocolates and candies for me to walk through, no little men singing little rhymes, the chocolate factory is still full of nothing, but chocolates, chocolates and MORE chocolates.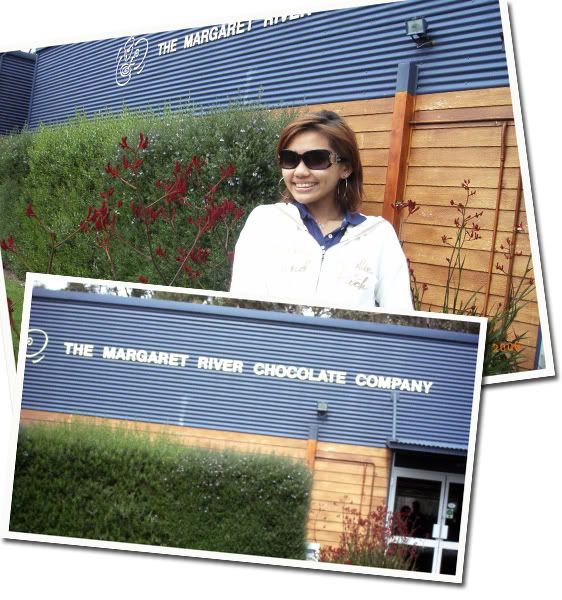 Didn't take much photos there, cuz I was busy buying chocolates and tasting them and all. Hehe.
If you had realised, I posed with so many flowers, it was crazy. I have a thing for flowers, especially those that are grown in the wild.
Don't you guys think it's so wonderful, to have such bright and beautiful flowers growing so innocently by the roadside, all by itself?
Unlike the stupid Singapore roads, all bougainvillas and rain trees. So boring. *yawns*

First winery of the day
Quite famous over there I think.
I am not a wine drinker, so I merely took a few sips from all the wineries we've been to. Daph was having one helluva time drinking the wine from the tasting bar though.
I don't mind tasting Chivas and Vodka, you know. Hehehe.

Second winery!
We had a sumptous lunch over there too. So much so I suffered from indigestion later on.
Talking about indigestion, I freaking gained 2kgs over there!! It must be the overnight mahjong and supper, the Corica apple strudels, the Ciao Italy pastas, the chilli mussels, the kebabs and the bubble tea. =(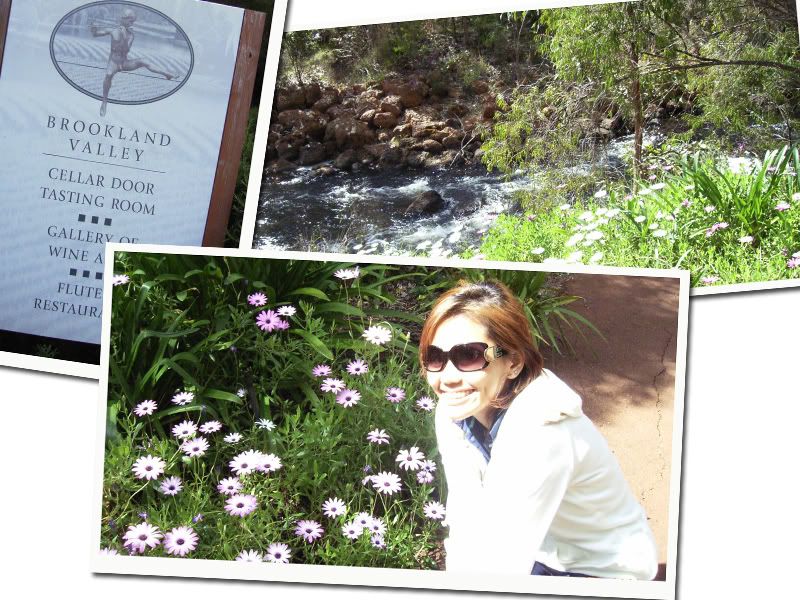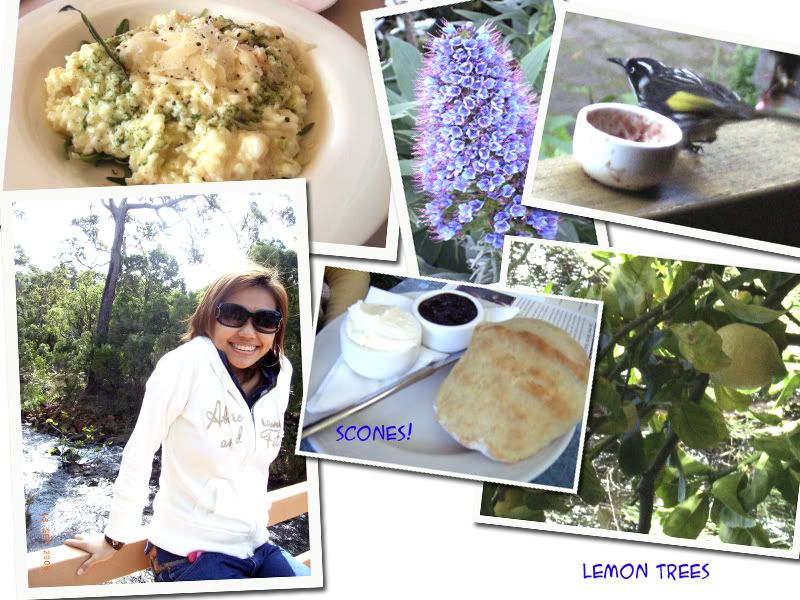 Look at the scenery! The place is also frequented by Blue Sparrows! Adorable little twits I tell you. They're all coated in blue fairy dust, they are so different from the dull brown ones we have here.
So adorable isn't it! =D

And this is my favourite picture from Brookland Valley: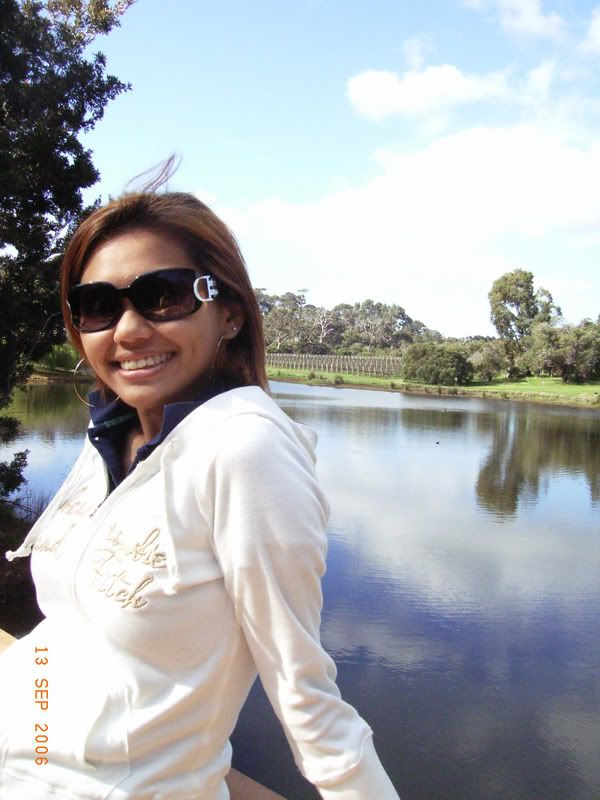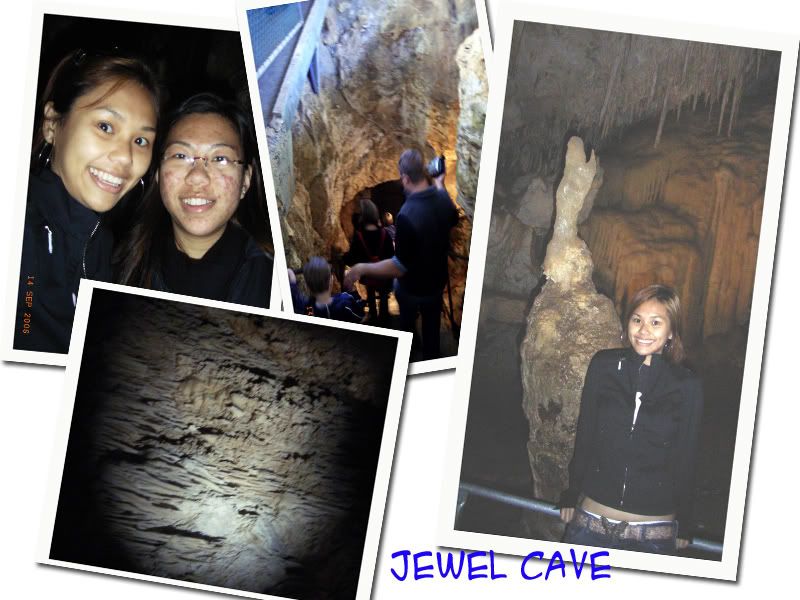 Nothing exactly fantastic, but we walked about 700m around the cave, and 40m deep. It was killing to get out of it after that because it was almost 1000 steps from the ground surface to the deepest surface.
Entrance fees at AUD17, I would think it's not worth it.
After visiting Jewel Cave, we moved on and drove further down to Augusta. Augusta is a small quiet town, who was known as the region where the Indian Ocean and the Southeren Oceans meet.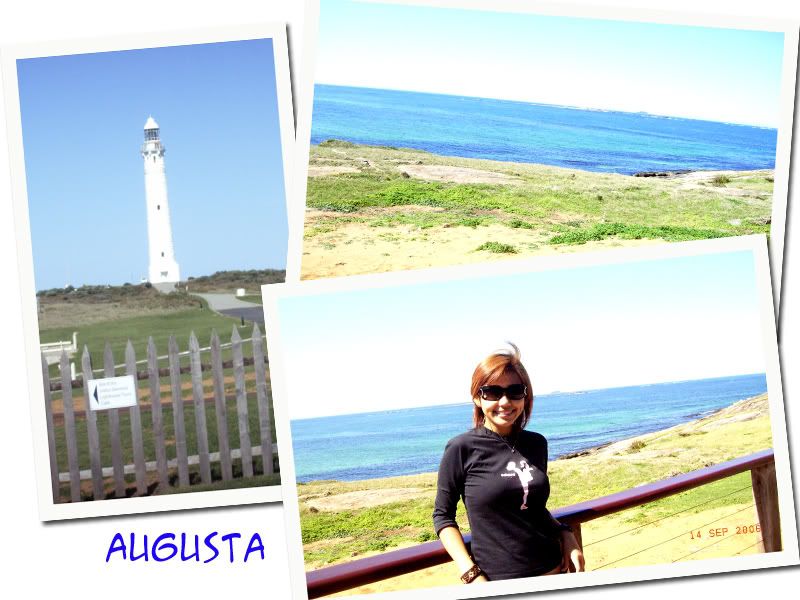 Look at how pretty the sea is.
Natural formations at Albany when we arrived the following day. We have The Gap, Natural Bridge and Blow Hole.
Big workout, especially to see the Blow Hole. Freaking at least 400 meters worth of walk and stairs!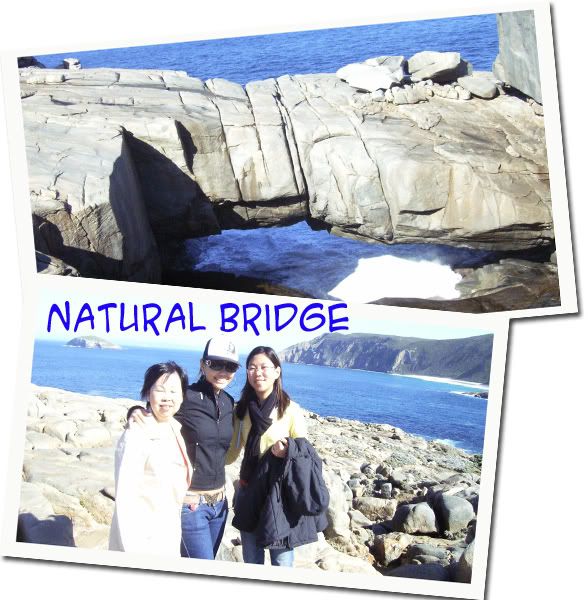 We didn't get to see any water blowing out from the Blow Holes as the sea was too calm. But still, it was a pretty sight!
The last place we visited before heading straight back to Perth was the Windmill Farm.


They are so powerful, they provide 80% of the power used in Albany. Talk about reusable energies. Perfect engineering, powerful propellers and turbines. Good to see!
We saw Daph's parents off on Saturday morning, after a huge round of mahjong on Friday night with Joseph, Kenny & E'an, Daphne and me.
I hate it when they are so good, and I keep losing! Went Metro City, one of Perth's clubs in town.
I was surprised, cuz it's seriously not happening at all. For a while I was staring at Daphne, wondering wtf I should do with the so-not-connecting-R&B-Hip-hop-raggae music.
And another more surprising thing, Metro is run by Ministry of Sound, Australia. They should come over and look at Singapore's MoS!!
The night ended with us crashing onto the bed, super lethargic and all, and I left Perth on Sunday, to touch down last night at 930PM.
- Daphne, who sought out my accomodation, be my lesbo-partner, showering partner, shopping partner, mahjong kaki for the past 10 days.
- Her parents who took care of me like their own daughter
- MY mom and dad, who had generously provided me some money to spend over there
- Paul, who had graciously lent out his room for me
- Joseph who rented the car on behalf of Daph cuz she's too young
- E'an for being such a wonderful bitching partner and introducing me Famous the gossip mag. =p
- Kenny for being such a kind joke for all of us for a good laugh
- WL, Edwin and Lester who freaked out big time for me upon knowing I met with an accident
- Sandra! For telling me I'm missed. Hahahaha!
- Kevin Lee, who came by at 3AM just because I wanted Nasi Lemak so badly.
And miscellaneous people who helped me in one way or another, to make my budget trip a success!
School's starting again, time to get my ass into Ikea, and get my study table and cupboard.